On introspection, Dravid may find that Wednesday's debacle at the Wankhede is more serious than just a one-off display of lunacy by his batsmen.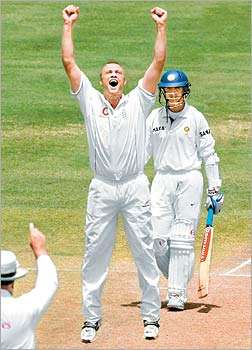 Rahul Dravid called it a "collective loss of reason" but, on introspection, the Indian captain may find that Wednesday's debacle at the Wankhede is more serious than just a one-off display of lunacy by his batsmen.
India have now lost two Tests this year, both by whopping margins and both when there has been just that hint of extra pressure. Before the 212-run capitulation against England in the third Test came the 341-run defeat at the hands of Pakistan at Karachi. This should alert Dravid and Greg Chappell about which of their theories and experimentations have been counterproductive, and the tortuous road ahead to redemption.
Yet, to roast Dravid for his decision to field first after winning the toss at Mumbai is to miss the woods for the trees. In hindsight, that decision was obviously flawed but I believe it played a far lesser role in the defeat than over-confidence; or the inability to win against odds, which is the hallmark of any good team. Indeed, what causes consternation is that India have lost even when the odds have been stacked in their favour.
Remember, at Karachi Dravid chose to field after winning the toss and India were outplayed though Irfan Pathan took a hat-trick in the first over! The batsmen lost their nerve when the Pakistan bowlers struck back, and surrendered twice though the pitch actually improved with every passing day. In Mumbai, the wicket admittedly became more difficult with time, but is that reason for the abject surrender? Had Andrew Flintoff won the toss, he would have batted first in any case.
In many ways, I believe, India paid the price for cockiness. The decision to field first was a consequence of the decision to play five bowlers, which was not actually necessary after the victory in the Mohali Test. On a pitch that was always likely to produce a result, prudence demanded the inclusion of an extra batsman, more so when four of the five Indian bowlers — Kumble, Munaf, Sreesanth and Pathan — had been in good form.
In fact, this was the first time in decades when fast bowlers were as effective as spinners at home, which was a big advantage. It was the batting that was suspect. But for Dravid's own sterling contributions, India's Test record would have been even more blemished this season. Two major batsmen, Tendulkar and Sehwag, were struggling for runs, the others were new. To underestimate England in such circumstances was folly, even if five of their key players were missing.
Having made the decision to include five bowlers and field first, India had necessarily to do everything right. But more than a dozen dropped catches, Harbhajan Singh's exaggerated celebrations when he claimed a wicket much after England had passed the threshold of safety, and Mahendra Singh Dhoni's false sense of bravado in the second innings were all symptomatic of arrogant, mindless cricket.
This does not detract a whit from the superb England side, brilliantly led by Flintoff who was big in stature and tall in performance in every which way. It takes a lot to beat India in India: it takes huge cricketing ability and, more importantly, nerves of steel. And unlike the last time he played at Mumbai, Flintoff did not have to do anything extravagant after his team had won. It was Dravid who had every reason to lose his shirt.