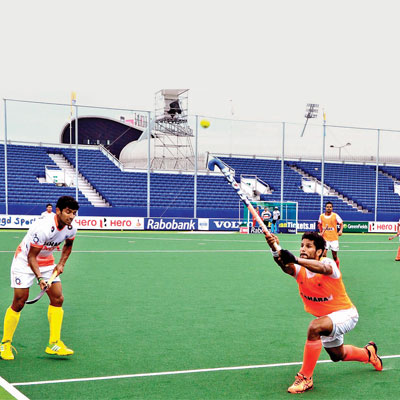 Terry Walsh did not soft-pedal his words. Even while maintaining that this was a young team and a work in progress, when asked what India needed to score full points in a game, he shot back with a single word, "Confidence". He then smiled, bravely, as only he can, considering the pains he and his team are going through, he added, "If they had some more confidence and win a few matches, World hockey would be in a better place."
Three matches into the World Cup, the Indians are still searching for 'confidence' and their first win of the tournament. On Saturday they meet Malaysia, the lowest ranked team in the event at No. 13.
India had their chances against both Belgium, a match they ought to have drawn, and then against England, a match they could have won. It was the same against Spain, but only this time they managed to hold out for a draw, though the video referral asked for by Spain right on the hooter, did give the team, its coach and the fans a few nervous moments.
Malaysia has never really been a pushover for India, despite the gulf in their rankings and achievements. A difficult team to beat, Malaysia has a resolute defence and a never-say-die attitude, something the Indian cannot boast of.
It is important for Indians to put it past Malaysia, for that may well be their only chance for a win in the League stage, which has been a disaster for India. In contrast, Malaysia, despite losses acquitted themselves well against both Australia and England, whom they held at 1-0 till four minutes before the end, when it became 2-0.
Malaysia have yet to get their first point, but they play Spain in the last game, while India, with one draw from three games, has Australia as its last opponent in the League stage.
One of things that the Indians should keen in mind is the speed that the Malaysians have showed, especially against Australia and England, both teams to whom they lost 0-2. That coupled with India's shaky defence, more so in the final minutes of either half, could spell danger for the Indians.
Sardar felt his team played two good matches against England and Spain but were unlucky not to have won either. "We had our chances, but could not convert them." He added, "We're eager to make that up tomorrow and score our first win."
Walsh was more realistic, and admitted he was disappointed India needed three matches to get on the board. "We've got a point. That's a start, but it has taken us three matches to get there," said Walsh.
"We've created enough chances, but haven't capitalized on them."
Yet, Walsh maintained the team has been progressing and emphasied, "This is a young team. It is growing in strength."
On the question of his team not converting penalty corners or getting as many as they should. "Not being able to force many penalty corners also reflects the quality of the defence of rival teams," he said. "A big concern for us now is not to give anything away as in the closing stages."
"In the last match, we were focusing on not making mistakes in the last three minutes, that's something which pulled us down in the previous two outings," the coach said.
When asked for a comment on the match against Malaysia, Walsh said, it would be different from the three European rivals India has played thus far here. "The game against Malaysia would be quite different, that's the beauty of world hockey," he said.
The Malaysian coach Dharma Raj feels his team can give India a run and maybe even stun them.
In contrast to India, Malaysia are an experienced side with captain Azlan Misron having 339 caps and there are nine others with more than 100 internationals. Striker Faizal Saari is the man to watch out for from their side and they have excellent goalkeepers in Subramaniam Kumar and Roslan Jamaluddin.