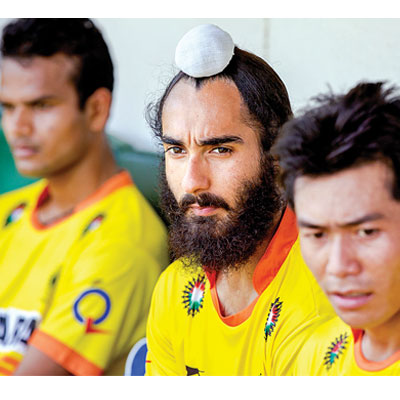 India and Korea, the two teams done in by heart-breaking losses in the closing stages of their first two matches against higher-ranked opponents, will clash for the ninth and tenth places on June 14 here.
The Indian and Korean tales at this World Cup have been somewhat similar – both conceding crucial winners in the closing stages of their first two games.
India lost to Belgium via a goal, which came with 12 seconds to go and then to England by the 69th minute goal. In Korea's case, they did well to hold New Zealand to 1-0 and then equalising in the 64th minute, only to concede the winner in the 69th minute through a late penalty corner. Then in the game against hosts, Netherlands, the Koreans actually went into the lead in the fifth minute, but gave away a penalty stroke for the equalizer in the 19th minute. With a draw looking imminent, Robbert Kemperman nailed the match for the Dutch with a field goal in the 69th minute. Those two losses were back-breakers for Korea, as much as the first two games were for India.
Interestingly it was the third match for both teams that proved to be the final nail in the coffin. India were expected to get past Spain and Korea were expected to beat South Africa. Neither managed and the two matches ended in draws.
India managed a face-saving win over Malaysia, albeit by a wafer-thin 3-2 margin before being steamrollered by Australia.
In contrast, Korea were outplayed 5-0 by Argentina, the surprise packets of the tournament. And in the final league match, the Germans, who failed to make the semifinals for the first time since 1973, took out their frustration on Korea, outplaying them 6-1.
Korea, have in recent times done well to hold the Asian challenge aloft at the global stage but not so this time. While India and Korea battle for ninth place, the third Asian team in the competition, Malaysia, will play South Africa for 11-12th place. With Pakistan unable to qualify for this World Cup, this story of the top four from the last Asian Games underlies the sorry state of Asian hockey.
It will be the sixth time that India will finish in the 9th-12th bracket. For Korea, who reached the semifinals of the 2002 and 2006 World Cup and narrowly missed doing the same in 2010, it will be their worst showing ever. The previous worst was eighth at the 1994 World Cup in Sydney.
Korea, who have won the Asian Games gold three times, the most after Pakistan's eighth wins, have had a rather despondent time at this World Cup. Even their hallmarks – speed and high physical fitness have been at a much lower level than before.