In 1988, Sir Richard Hadlee claimed his 374th Test wicket at the Chinnaswamy Stadium, a world record at that time. Now, 25 years later, the New Zealander is back to the venue where he etched his name in history. In an interaction, the cricketing great talks about various issues.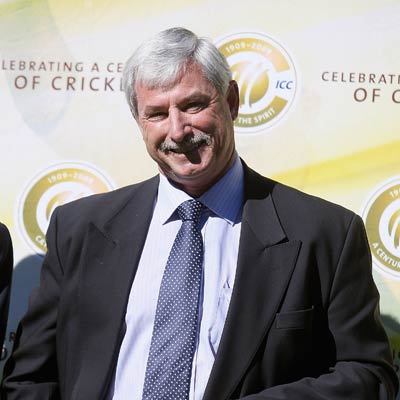 On bowlers going on to capture 700-800 wickets.
When I got to 431 in England in 1990, the benchmark was set and it was going to take a long time for somebody to get past my record. It was nice to be a pace-setter, I always realised then that somebody would go beyond what I did, and it wouldn't devalue what I did, and it didn't devalue what Fred Trueman did – being the first to 300 wickets.
It was Kapil (Dev) who got to 434, and I was pleased for Kapil when he actually did that, and of course Courtney Walsh went on to 500. I thought then, 'Well, that's a phenomenal performance', but I didn't envisage when I retired in 1990 that Shane Warne would go to 700, and Murali to 800, double almost.
This suggests there's lot more to Test cricket and opportunities for players today, and it does mean there is longevity for players to play long enough and the opportunity to get those wickets. They show fair amount of fitness, skill and just the motivation, the desire to want to keep going, and the reward has certainly been there for all those players that have gone on to be No.1 at some stage. It's going to be very difficult for somebody to go beyond Murali, they'd have to play 30 years probably.
On role of bowlers getting tougher over the years.
There's more cricket today, the wear and tear on the body is going to be greater if you are going to be playing international cricket these days because of the different formats that you play. If you last about 10 years as a pace bowler particularly I think you've had a good career, spinners could go 15 or more years, whether the records can be broken thereafter highly unlikely now because of the toll on the body. After the 18 years that I played cricket, including club cricket, I bowled something like 1, 00,000 balls and the body wasn't designed to handle that sort of wear and tear. I have a right hip replacement, and a left-knee replacement. The bowlers have to be conscious — if they get stress fractures of the back or severe knee problems or ankle problems — it could affect their life thereafter. So, there's got to be a balance about how long you keep playing and how much you are prepared to suffer body-wise.
On contributing to team and jealousy.
Earlier, you played for the right reasons, you didn't play for money. Then we went into a semi-professional stage and then a totally professional stage. My role with the new ball when bowling was to get wickets, when batting was to score runs, so I was very single-minded and determined to have an individual performance.
Cricket of all team games is one of the most individual games within a team because there is a one-on-one contest between the batsman and the bowler, one trying to outperform and win that battle. If you aren't doing those things then you aren't doing your role in the team.
On players taking to illegal means.
I suppose you have to look at the people who have been caught, did they need to get involved in these sorts of things. It has to be stamped out very quickly and people have to be made examples of and clearly banned, even take it a step further, even have your records erased for life in the game. If it needs to go to that stage, then players are going to think twice before they or even three, four, five times before they get involved in something like this.
On pressures on sportsman, you had a period of depression, suicidal, how did you overcome that?
Firstly, if you have got a problem you have to acknowledge it, otherwise you are keeping it inside and there's this denial that you think 'everything's alright,' but in fact it's not alright, there's nothing wrong in admitting that you have depression or a low or a mental problem, by getting it out there you can talk about it, you can try and work through a process to find solutions to those problems, get your focus and your health right, and get back in track, and that sends a message to other people that they shouldn't be afraid of it.
In 1983, we beat England in 12 hours, they didn't get a hundred in either innings, and I got a 99 myself, that was the trigger and the catalyst to get back on track and I had seven more years of international cricket. Those were probably my best, to reach the top you are going to have a few knocks back, it's how you get back on your feet again.
On the current NZ side.
I think we perform well in one-day cricket, T20 cricket. We are the co-hosts of 2015 World Cup and we are sharing equally all the games, which is an enormous thing for New Zealand cricket. In 1992, when we hosted, we gave Pakistan a good run for money; so I think good things can happen in 2015 in New Zealand.
Our Test cricket is of great concern right now. I am a traditionalist in many ways. I believe Test cricket is the ultimate because it's the foundation on which the game of cricket was based historically and that must be preserved. But what doesn't help us is when we travel overseas to play Test series, we invariably get a one-off Test match or two-match Test series. When we play in New Zealand we can generally schedule three Test matches although India wants to play just two this time and that's disappointing. Unless we get more Test cricket in home and away, particularly away, we are not going to get any better. It appears our value to other countries is not significant enough to keep us long enough in their country to make decent money.
On should ball tampering be legalised.
You can use natural saliva, sweat on the ball. You can't use finger nails as it stands today. I made a statement many many years ago that why not legalise it. It doesn't matter if the ball is changing its shape or condition because what you see with reverse swing, something is happening to the ball that allows it to do that. You can almost argue that it's a form of tampering because the ball is changing its composition and conditioning but its having a good effect on the game because it's a new skill for the bowler. The batsman has to handle it and it's exciting to watch on TV what the ball is actually doing. So it doesn't matter at the end of the day.
On playing with Imran Khan in county circuit. Did you see him tampering with ball there?
Well, he bowled a big inswinger but we weren't watching the ball closely enough to say whether the shiny side was this way or that and the ball should be going that way but coming in all of a sudden; we didn't watch the ball all that closely.
On current fast bowlers.
I see James Anderson and Dale Steyn as two top pace bowlers in world. Very skillful. Broad is really hitting his straps at the present. I haven't seen enough of the new Pakistani quickies but they are big men and by all accounts they look handful. From the New Zealand point of view, our strength is our young pace attack. Very inexperienced, very young. Bolt can swing it both ways, Southee is really coming on, Wagner is a good trier and there are couple of good seamers in the background. Give five years, I think we will be knocking over sides quite regularly, provided we score enough runs!
On technology, especially w.r.t Ashes
When technology first came on to the scene, I was a bit skeptical about it because of the tradition and history. Umpires always made the decisions; they get some right, some wrong and you just accept it and get on with it. And then as technology improved, I have felt then if it's 100% conclusive, why not use it. If there is an element of doubt in technology, it should always go back to the batsmen. What we are seeing very recently, if the technology is not conclusive, mistakes are being made by umpires in the middle and by the third umpire, that it's bringing into question again whether technology should be used or not. My personal view is that I don't particularly like the captains or players questioning or reviewing the decisions.
Do you think innovative shots are appealing to the masses?
I think in the shorter version of the game, particularly T20 cricket, because it is all about scoring as many runs as you can in a short period of time and it is a high risk game, so you try things that are different. When things are high-risk, you can generally make mistakes and made to look rather foolish. But if it comes off, it is rather exciting and that's all part of the entertainment package. Probably not necessarily seeing that sort of stroke play in Test cricket because of the longevity of the game, you don't need to take all those particular of risks. Maybe at some stage in the 50-over game, towards the end of the innings, maybe you play a bit more like the T20 format. But it's a tactical thing, a judgement thing, what the coach and the captain and the players agree to into their plan. But of course I have never been involved in T20 and perhaps not a game that I would have enjoyed. I didn't really enjoy the 50-over game even though I played 115 ODIs.
First four years, art of bowling?
We were amateurs. In the early days, I worked five days a week and you practiced two nights a week with your local club side where practice conditions and facilities were pretty average to poor. And then you play a club game on Saturday, you play something on a Sunday and then you go back to work for five days. And then all of a sudden, we are talking about the 1970s here, out of club cricket you get picked to represent your province or zone or state, and we played five three-day games. That was our first-class season — five three-day games.
Now you have a rained-out game or you have an injury or you have a bad performance, virtually half your season's gone. You don't really know how to train or prepare because you are doing it yourself basically. You are making mistakes and you've got no one to help you. And then all of a sudden you get picked to play Test cricket, which happened quite quickly for me. And I have always said the first four years of my Test career, I didn't really know what I was doing.
The BCCI has a scheme to reward players. Can NZC follow suit?
I am not familiar with your set-up here. We, quite frankly, just don't have the money you know. If countries aren't going to come to our country and play what is required, then it's reducing the sponsorship dollars that comes into the game, the television rights, and all that money comes into New Zealand cricket but then goes back throughout the provinces and the players and others will benefit. We don't have national benefits for players, you might get one through your province for 10 years' service or something like that.
In Sinclair's case, the problem he had was he didn't have a national contract. He had a provincial contract and unless you are the top-rated player in the 12 or 13 that they have on that list, then the dollars you get lessens accordingly. And he felt that for the six months commitment that he put into cricket, the payment was not sufficient for his family and when the season was over, he didn't have another job to go to for six months and he found it difficult for somebody to employ him on a temporary basis. So with his age, 36 or 37, he has made a career decision now to give cricket away, concentrate on something else, whatever that may be. It's just one of those things that sports people are confronted with at some stage in their life and it's a big decision, it's a tough decision and it's a worrying decision. But sooner or later, reality kicks in. There's got to be life after cricket or sport and you have got to find something that will enable you to support your family and he's reached that stage in life. As talented and good a player as he was.
About being an administrator...
Well, I have been a player, a selector, a manager of our New Zealand 'A' teams, our academy teams, I have been in the media – television, radio commentary, I have been a columnist, I have written 13 books. I am a Level 3 coach, so I know a bit about the high-performance sort of things. I have done all those roles. I have been involved on the sponsorship side and the public relations side with the Bank of New Zealand who sponsored our international cricket for eight years. Again, I have had another skill set to be involved with. I don't go back to any of those roles. If I am looking forward, then it would be administration. Whether the time is right to look at that, I am thinking about that quite seriously.
There is a small talent pool in New Zealand and the stars are coming to the IPL. How big a challenge is it with cricket as a minority sport?
To me, the situation is quite simple. If you are contracted to your country, that is the first priority. If NZC is not engaged in any other form of cricket at the time when say IPL or the West Indies thing that is going on now, then players if they are fit, they have the opportunity to express their trade in any conditions. I don't have a problem with that. The only problem I would have though is if the player is injured and contracted, then he in effect is owned by say NZC in our case. The owner then should have the right to say whether the player is fit enough to go and perform in other parts of the world, that is common sense. Because we want our players to be available for our country. You have a player like James Franklin at the moment who is not a contracted player. So he can freelance and go anywhere in the world at any time and that's what he is doing. So there is a difference between being contracted and uncontracted, as to what you can do.
On the issue of turning back on national contracts?
Vettori opted not to take a contract this year and that's simply because of his fitness issues. He had an Achilles' tendon operation. When he becomes available, I suppose he has got to wait till next year whether he wants to go back on contract.
Is that a concern?
You don't want to lose players, to walk away from your country. You need to actually work with them so that you have some common ground. As I say, if you are contracted to the national body, then the national body effectively owns the player. That conceivably, a top player might say I don't want a national contract. I will freelance and when I am ready and available, I will put my hand up and say select me for your country. Well, that's a huge issue for any administration to work through with the player because you are questioning actually commitment.
Era of all-rounders in three formats a dying breed...
Kallis is actually one of the few that has adapted to all formats of the game and survived. Statistically, he is the greatest all-rounder ever in the history of the game. No question about that. But obviously as time has moved on in his case, he is now more being selective as to what he is available for and not available for and having a bit of a rest to let the body recover. But I still would probably think his focus is Test cricket. He is being quite remarkable. But I think the all-rounder, it is the hardest role in the game. Depends whether you are a batting all-rounder like Kallis or in my case, I was a bowling all-rounder, that was the first priority but the responsibility of the all-rounder is to change the course of the match with an inspired performance either with bat or ball or with both.
If you are doing both you are going to help win games. And that would take its toll physically – and what I mean by that is if you have to go and bowl 20 overs in a day, soon as the innings changes within an hour you could be out there batting again. To switch on, switch off is a very very tough thing to do. You are not seeing too many of the current all-rounders one physically surviving, like Watson. As good a player as he is, physically he is struggling. And he is playing in all forms of the game and I think that tells the story, how tough it is for all-rounders today. In fact, there aren't many. There are some pretty handy all-rounders but whether you are going to get the great all-rounders back again, I think highly unlikely. Once Kallis goes, I don't think there is anyone else that can start matching up.
How would you compare the four? Did you have personal feelings?
(Garry) Sobers traditionally has always been regarded as the No. 1 because people would pay to go and see him play. Very flamboyant, rhythmical batsman and bowler, fielder, captain — the whole package and the stats would back that up. The era that I played with Beefy, Immy and Kapil and myself was a fantastic era because it really was the battle of the all-rounders, in the 80s.
Even though we have with technology and you can dial up on the internet to see exactly what the player is doing, in our day you had to read the newspaper or listen to the odd radio report and we are all always trying to be aware of what each other had done somewhere around the world playing for their country. And when you had those one-on-one battles, it was all go. I didn't want to get out to Kapil or Immy or Beefy but I certainly wanted to get them out when I bowled. So that competition actually grew and that motivation actually grew. So that was a fantastic era. Now, if I was asked to pick who was the better of the four of us, and I am on record as saying Imran.