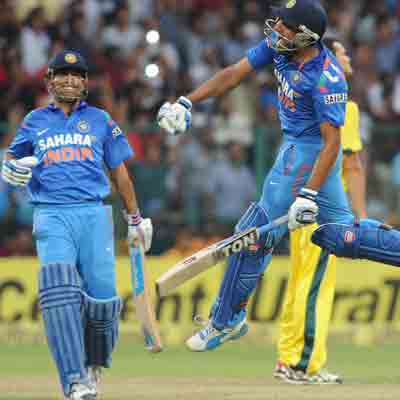 The ICC World Twenty20 2014 is reaching the end of its league stages. As they say, this is the business end of the league stage, where each match becomes crucial to the chances of a team making it to the semifinals.
Two teams - South Africa from Group 1 and India from Group 2 - have qualified for the semifinals. Thus, one semifinal spot from each group is open.
Group 1
Sri Lanka (Played 3, Won 2, Lost 1)
For Sri Lanka, the equation is simple - defeat New Zealand on Monday and reach the semifinals. If however, Sri Lanka lose, South Africa and New Zealand make it to the semis.
New Zealand (Played 3, Won 2, Lost 1)
New Zealand have to beat Sri Lanka on Monday to qualify for the semifinals. A loss would put them out of the tournament.
Thus, the Sri Lanka-New Zealand clash on Monday is a virtual quarterfinal, with the winning team reaching the semifinals.
The other two teams in Group 1 - England and Netherlands, are already out of contention for the semis.
Group 2
This group is a little more interesting as West Indies, Pakistan and Australia all have a chance of making it to the semis.
Australia (Played 2, Won 0, Lost 2)
Australia's situation is the most difficult - they have to hope that the following things happen for them to qualify for the semifinals:
1) Bangladesh beat Pakistan today
2) Australia beat India today
3) Australia beat Bangladesh on Monday
4) Pakistan beat West Indies on Tuesday
and
5) Australia's net run (which is languishing much below Pakistan's and Windies' right now) is improved sufficiently. This means they must not only beat India and Bangladesh, but beat them very convincingly.
West Indies (Played 3, Won 2, Lost 1)
A win for the Windies against Pakistan on Tuesday will see them through to the semifinals. However, a loss will put them at the mercy of the net run rate and other results.
The positive for the Windies is that theirs is the last league match of the World Twenty20, so they will know exactly what they have to do against Pakistan. Morever, theirs is the best net run rate among the three teams yet to qualify.
Thus, Windies could qualify for the semis even if they lose to Pakistan, provided they do not lose by a big margin.
Pakistan (Played 2, Won 1, Lost 1)
Pakistan must beat Bangladesh and the West Indies to qualify for the semifinals without hassle. Otherwise, the following scenarios arise:
1) Pakistan beat Bangladesh but lose to West Indies:
West Indies go through to the semifinals and Pakistan are eliminated.
2) Pakistan lose to Bangladesh but beat West Indies:
In this case, two more scenarios arise:
a) Australia beats both India and Bangladesh:
Then it will be a three-way battle between Pakistan, West Indies and Australia for one semifinal spot, to be decided on net run rate.
b) Australia loses either one of their two remaining matches:
Australia will be out of the tournament and the team with the better net run rate between West Indies and Pakistan will make it to the semifinals.
Thus, for Pakistan, beating West Indies is crucial, but a loss to Bangladesh will not eliminate them from the tournament.
Bangladesh (Played 2, Won 0, Lost 2)
Bangladesh are almost out of the tournament, because even if they win both their remaining games, their net run rate is far too low for them to have a realistic chance of qualification.
However, Bangladesh could spoil the party for Australia by beating them on Monday and eliminating them from the tournament. They could also make things difficult for Pakistan by beating them today.