Pacewoman returns figures of 4/29 after skipper Edwards cracks a strokeful ton as England beat India by 32 runs.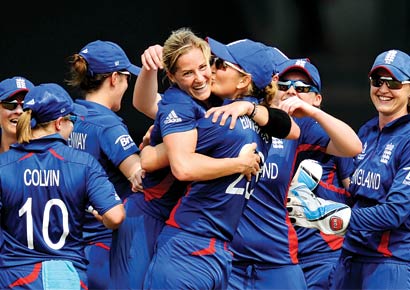 The look on Charlotte Edwards's face said it all. The England skipper had just lost the toss and Mithali Raj had decided her pacers would have a go at the defending champions. The pitch at the Brabourne Stadium is known to assist fast bowlers, especially in the first hour of play. And given that the mornings are slightly cooler these days, the signs were ominous for the visitors.
However, six entertaining hours later, it were the Englishwomen who laughed out loud. Two days after going down to underdogs Sri Lanka in a thriller, Edwards & Co turned it on against the hosts on Sunday, registering a convincing 32-run win.
England were clearly a different side on Sunday. First, Edwards played a captain's knock, scoring a strokeful 109 (123 balls, 16x4). The century was her seventh in ODIs. During the course of her knock, the 33-year-old also overtook Aussie great Belinda Clark to become the highest run-getter in this format of the game. She now has 4,901 runs in 162 games at an average of 36.84. "This has been one of my best 100s. But honestly, today it wasn't about me, it was about the team," Edwards said.
After Edwards's knock helped England post a formidable 272/8, it was time for Katherine Brunt to stamp her authority with the white ball. India skipper Mithali Raj had said on Saturday that the English attack wasn't so good and that the team relied heavily on Brunt. "That did add fuel to the fire. We decided to prove our worth. And you can see the scorecard. We all managed to take some wickets at some point of time," said pacer Brunt, who destroyed India with figures of 9-1-29-4.
India were reduced to 29/2 and then 29/3, but Harmanpreet Kaur and Karuna Jain added 106 runs to bring the hosts right back into the game. But after Jain fell for 56 (92 balls, 5x4), none of the others kept Kaur company. The Punjab batswoman did go on and complete her maiden ODI ton (107 not out, 109 balls, 8x4, 2x6), but that was that. She kept losing partners and India fell well short.
Scorecard
England: C Edwards run out (Niranjana/Jain) 109, D Wyatt c Sharma b Goswami 2, S Taylor run out (Sharma) 35, L Greenway c Raut b Goswami 29, K Brunt c Sharma b Sultana 21, A Brindle not out 37, J Gunn c Malhotra b Niranjana 3, H Knight run out (Goswami/Sultana) 2, L Marsh c Goswami b Niranjana 13, H Colvin not out 6; Extras: (B1, LB2, W12) 15; Total: (8 wickets; 50 overs) 272; FoW: 1-4, 2-104, 3-166, 4-198, 5-224, 6-232, 7-236, 8-263; Bowling: J Goswami 10-1-50-2 (W1), A Sharma 5-1-21-0 (W2), N Niranjana 10-0-56-2 (W3), G Sultana 10-0-68-1 (W5), E Bisht 10-0-44-0 (W1), R Malhotra 5-0-30-0
India: P Raut lbw b Shrubsole 4, T Kamini lbw b Brunt 10, M Raj c Shrubsole b Brunt 8, H Kaur not out 107, K Jain c Marsh b Brindle 56, J Goswami c Knight b Marsh 19, R Malhotra c Taylor b Brunt 17, A Sharma c Edwards b Brunt 0, N Niranjana c sub (T Beaumont) b Wyatt 0, E Bisht c Marsh b Wyatt 7, G Sultana not out 2; Extras: (LB6, W4) 10; Total: (9 wickets; 50 overs) 240; FoW: 1-18, 2-29, 3-29, 4-135, 5-172, 6-225, 7-225, 8-225, 9-235; Bowling: K Brunt 9-1-29-4 (W1), A Shrubsole 6-0-32-1 (W2), H Colvin 10-1-29-0, L Marsh 10-0-55-1, A Brindle 7-0-37-1, D Wyatt 8-0-52-2 (W1)
Other results
Brief scores: South Africa 188/9 in 50 overs (M Kapp 61, T Chetty 59; E Perry 3/35, M Schutt 2/42) lost to Australia 190/7 in 45.4 overs (R Haynes 83, L Sthalekar 29; S Ismail 4/41); Australia won by three wickets; Pakistan 104 all out in 41.2 overs (A Iqbal 21; R Candy 5/19, N Browne 2/12) lost to New Zealand 108/3 in 29.4 overs (S Bates 65*; S Mir 2/26); New Zealand won by seven wickets