Former World No. 4 Tim Henman says Swiss star has rectified mistakes and is favourite after Cincinnati win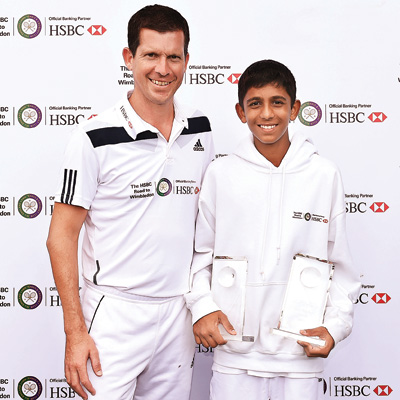 Having suffered heartbreak in the semifinal stage at Wimbledon on four occasions (1998, 1999, 2001 and 2002), Tim Henman knows what it's like to be so near to victory and yet so far.
The British tennis star might have hung up his boots in 2007, but he's kept a close eye on tennis and with the US Open set to begin next week, he said he would put his money on Roger Federer to win in Flushing Meadows.
"Everyone's favourite is (Novak) Djokovic, but don't write off Federer at any point. Djoko may be a hard-court specialist but the momentum is strong with Federer having won at Cincinnati. My money is on him," Henman told dna over telephone from London.
Henman believes that the Swiss legend is now the man to beat beacause he has rectified flaws that had crept into his game and has adapted a new approach.
"The change in racquet has helped Federer's game to a great extent. He might have lost the Wimbledon final and he knows this will be the second straight year without a Grand Slam should he not win.
"Momentum is on his side with the Cincinnati triumph and you just feel you're seeing the Federer of old. He will be hungry for more which is why you can never count him out," Henman said.
One player who won't be there at Flushing Meadows next week is defending champion Rafael Nadal, who pulled out due to a wrist injury.
"It's sad to see Nadal pull out of the tournament. The wrist is a tricky one. It takes more time than one thinks to heal. We all hope to see him soon," said Henman.
As far his compatriot Andy Murray is concerned, Henman feels the 27-year-old might just come up short due to not having enough games under his belt going into the competition. "He looks fit and healthy, but is he match fit is what will play the telling factor," said the 39-year-old.
With the International Premier Tennis League all set to kick off in India this November, Henman's fans in India might be disappointed that he isn't considering participating in the tournament that is the brainchild of Mahesh Bhupathi.
"I have spoken to Mahesh (Bhupathi) about it and I wish him all the best. The amount of growth and attention that the sport now shows in India is highly commendable. You won't be seeing me though as 30 days is a huge commitment. Now is the time to take care of my three daughters."
Siddhant impresses Tim
Tim Henman began his career in India back in 1994 and said he is delighted to see the progress the country has made. Fourteeb-year old boy from Pune Siddhant Banthia won the HSBC Road to Wimbledon Boys' Singles Championship beating top seed Maxime Tremikhin 7-6(2) 2-6 6-0 in the Boys' Singles final at Wimbledon on Saturday. Henman has been part of this grassroots programme for the past 12 years. The competition sees 20,000 junior players fight it out for a place at the Junior Wimbledon.The Wimbledon Foundation team up with the All India Tennis Association (AITA) to bring the Road to Wimbledon to India.
"The interest in India is massive. It's very encouraging to see the programme expanding. I saw Siddhant at the clinic a few weeks back and realised that he had never played on a grasscourt before, never travelled overseas. The talent is right out there, what is missing is the platform, the chance for these kids to do well. Seeing Indian kids do well here was certainly beyond my expectations. It sets the launchpad for guys like Siddhant. Who knows how good he can turn out to be after this. The only area where they lack is the mental aspect of the game. Technically, they are right up there," says Henman.