American rapper and Latin Grammy winner Armando Christian Perez, better known as Pitbull, in a chat with Heena Grover Menon, talks about creating the 2014 FIFA World Cup official song, We Are One (Ole Ola)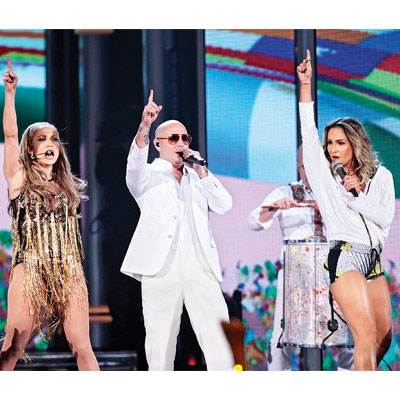 The 33-year-old rapper who has been a football fan since childhood, said that it's not just a sport, but it also teaches a sportsman the importance of leadership and management. "Football teaches you to believe in yourself, makes you disciplined, and most importantly, shows that the more you practice, the harder you work, the better you get."
With this song, Pitbull says he along with American pop singer Jennifer Lopez and Brazilian singer Claudia Leitte, wanted to find a way to confluence the amazing culture of Brazil with everything that is happening around the world. Talking about his collaboration with the two famous singers, he said that he shared a great chemistry with both the artists.
"I have done a number of tracks with JLo earlier, and we have created some amazing music together. Every time I'm around her, it's all about watching, learning, and studying. It's a natural combination, like a student and teacher. And with her, I always play the student. I also feel it would be an honour for JLo to watch me grow."
The song has attracted mixed reviews from across the globe and when we asked him about his reaction, Pitbull said that he and his team is happy with the kind of response they have received for Ole Ola.
About the tournament and his prediction about who would emerge the biggest star, Pitbull said that though it is a tough call at this hour to name one player who will be the player of the tournament, he will support his country like he always does, and wishes all the teams do do well.
Pitbull was last seen with actor and Bollywood actor Priyanka Chopra in her third international single, Exotic, marking his comeback in the country. He shook a leg with biggies such as Shah Rukh Khan, Deepika Padukone and Katrina Kaif during the opening ceremony of Indian Premier League which was held in Kolkata last year.
"My visit to India to perform at the IPL was an amazing experience. Sharing the stage with Shah Rukh was a lot of fun. I didn't know Priyanka until we worked on Exotic. She has a wonderful voice and a super great person to work with."
On his plans to collaborate with Indian musicians, Pitbull said that he finds Indian musicians extremely talented and would like to associate with them in future. "Indians artists are a lot of fun to work with.
Moreover, I will also get a chance to learn some Bollywood dance steps once I come there."
While sharing his message for the players in the world cup which begins today, Pitbull said, "All my life, I have tried to make people understand that we all come from the same place. I believe in fighting hard for what you believe in and never giving up. And this is what I would like to tell all the teams as well."