Australian Open badminton champion says that injuries and losses to tougher opponents were the reasons for the long gap between major titles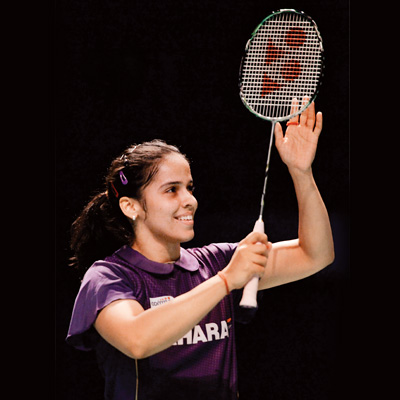 The smiles are back for Saina Nehwal. She had to wait 88 weeks for them, and so are back the confidence and more expectations.
After brushing aside Spain's Carolina Marin 21-18 21-11 in Sunday's final of the Australian Open in Sydney in straight games, the 24-year-old shuttler was relieved. The monkey was surely off her back.
"I am very tired and keen to come back to India," the world No. 8 told dna from Sydney hours after winning the trophy. "I am relaxed after this win. I was wondering why I was not able to win any tournament since October 2012 (Denmark Open Superseries in Odense). I never felt outdated, though. My losses since then were against tougher players. Injuries also were not doing me any good. Hence, this gap between two major wins.
"God helped me achieve this win. Of course, my parents' encouragement and coach's constant encouragement and the tough practice sessions made me to achieve this victory.
"I am fit and fine now and I'm looking forward to the tougher challenges ahead that includes Commonwealth Games and Asiad," said the 2012 Olympics bronze medallist.
That Saina had to battle blisters in the final also made the elusive Superseries title that much more sweeter. "My first round win against Yu Sun of China was as tough as the quarterfinal victory against Eriko Hirose of Japan," she said.
The icing on the cake was when she eliminated world No. 2 and top seed Wang Shixian of China in the semifinals, proving again that the dominating Chinese are conquerable. "The first win (against Sun) gave me confidence that I can make it till the end," said Saina.
Earlier this year Saina, apart from guiding Hyderabad Hotshots to title triumph with her cent per cent success rate in last year's inaugural Indian Badminton League, also won the Indian Grand Prix Gold in Lucknow.
She showed signs of returning to her glorious form when she won all her singles matches in the Uber Cup finals, where India finished with a historic bronze.
"We did well and I maintained 100 % winning note. Our tough practice sessions and team work made it (bronze) possible," said Saina.
Saina also played women's doubles with PV Sindhu in the Uber Cup, something she termed as a one-off. Asked if she would also be playing in doubles, she said: "Our doubles team was not fit, so our coaches tried this combination (Saina-Sindhu) for Uber Cup only. There will be no further experiments."
Citymate and practice partner PV Sindhu seems to have stepped out of the shadows of Saina and is coming on her own. Saina only had praises for the world No. 10. "Sindhu is fast emerging as a very good player. She is dedicated and hard working," Saina said.
While most players, led by the invincible Chinese Lin Dan, have opposed the new scoring system that Badminton World Federation will experiment in August, Saina chose to "practice it than make any comment" now.
For now, Saina is soaking in the glory of the Superseries win and take the confidence into the next ones. "This win will help me perform better. Besides CWG and Asian Games, we have Denmark Open, China Open and Hong Kong Open."