World's No.1 T20 batsman and Aaron Finch talks to Rutvick Mehta about nuances of batting in shortest format and Dhawan as SRH captain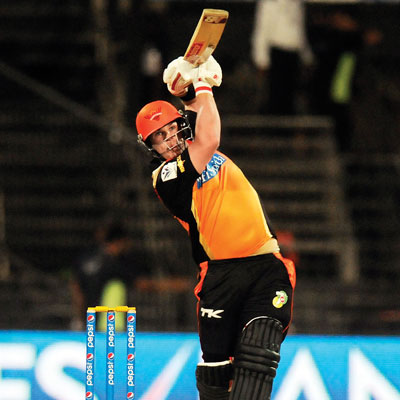 The Sunrisers Hyderabad (SRH) are finally on board after three games with the win against Delhi Daredevils. Relieved?
Yeah, of course. It's good to get the first win. I thought we played some decent cricket in the first two games, but to finally get our first win was nice. That takes a little bit of pressure off the guys.
Your unbeaten 88 played a big part in that win. How satisfying was that knock after two quiet innings?
Well, T20 is a hard game. I wasn't really concerned with my form coming into the IPL. The format of the game is such that you need a bit of luck sometimes. I'm just happy that I could contribute to the win last night (Friday).
There's a notion that the SRH batting line-up is too top heavy, with Shikhar Dhawan, yourself and David Warner coming in at No. 1, 2 and 3. You think that's a fair assessment?
I don't think so. If you look down that list, we've got some very experienced guys in the middle-order in Venugopal (Rao), (Darren) Sammy, Naman Ojha, Irfan Pathan – they're all in the mix. People are commenting that we're very top heavy, but as long as we keep performing at the top, it'll be OK.
You're the No. 1 T20 batsman in the world right now. What, according to you, is the key to opening in T20s. On the one hand you have a Chris Gayle who takes time to settle down, while there's a Virender Sehwag who gets going from ball one. Which style suits the best in T20s?
I think you have to be flexible and quite adaptable as an opener. Some days you get off to a flier, and that's great. But there are times when you might struggle a little bit at the start of the innings and you try and make that up at the end of the innings. So I think it's all about being flexible. Overall, it's about making sure you're in control.
You have Warner for company at SRH. Both of you go a long way back in Australian cricket. Is there a sense of competition among the two of you, even while playing for a franchise?
I think there's always a bit of competition, we're both very competitive people! But it's a very good, friendly kind of competition. Everyone wants to perform well personally, and everyone wants each other to perform well. But I think the important thing is that if you're enjoying each other's success, you'll become a better player and more successful.
This is Dhawan's first season as captain. How has it been playing under him?
He's been very good as a captain. He's obviously a very relaxed guy, and I think that rubs off on everyone else in the team. He keeps everyone relaxed, and that's what you need in the IPL. As soon as you start panicking, it becomes high competition. It's important that we stay confident and levelled.
You also have VVS Laxman in the support staff, who is known more for his Test skills than T20 skills. Can you share with us the kind of interactions he has with you guys?
I think if you look at guys who're successful in T20 cricket – AB de Villiers, Jacques Kallis, Virat Kohli — all these guys are unbelievable Test and ODI cricketers. So I think that regardless of how your Test or one-day cricket is, everyone brings different things to T20 cricket, which is important. And that's why these guys are very successful in all formats of the game, because they have a basic technique and a temperament to fall back on if things aren't going your way. VVS is exactly the same. He just talks a lot about mindset, not so much technique for everyone's got their own technique. He just tries to get everyone positive and make sure that we're ticking off everything we need to do.
Another Australian who's setting this IPL on fire is Glenn Maxwell. He's playing like never before, isn't it?
Yeah, absolutely. He's obviously in great form at the moment, and is making the most of that. He's an unbelievably talented player. He is somebody who can stroke the ball better than most in world cricket. And he's just making big, match-winning scores, which is what you need to do in this format. As soon as you're in a position to win a game for your team, he's doing it for them. I think that's been the difference in his game — he's going on to make big scores rather than 30s or 40s.
Maxwell plays unorthodox shots at will, while you've hardly ever played one. Is that a conscious decision?
Well, I'm working on some things like that. But as far as my game is concerned, I'm probably not brave enough to get in and play a Dilscoop or stuff like that. It's just crazy. So I just play conventional shots, and then try and improve on that part of my game. But it's not quite ready to be taken out in the middle yet.
You've played for a number of franchises over the years, from Rajasthan Royals, Delhi Daredevils, Pune Warriors India to now SRH. How challenging is it to adapt to different franchise cultures?
I don't think it's helluva lot of a challenge. The franchises are very well organised now. Also, I've played with a lot of the guys in this team in the past, whether in the Australian team or against them around the world. It's just one of those situations where you get to know people along the way while playing in the IPL. I feel like I've got a lot of good friends. So that makes it a lot easier to come in and turn up for a franchise and play.
Australia probably had one of its best cricketing summers recently. You guys were also tagged favourites going into the World T20 in Bangladesh. What do you think went wrong?
I think the conditions didn't suit us as much as the sub-continent teams. But that's not any kind of excuse. I thought that we were very well prepared. The first two games against Pakistan and the West Indies we were in very good positions to win the games and we just didn't do that. But that's what T20 cricket is. Darren Sammy played a blinder of an innings for the Windies. I got out towards the end when I probably should have got us home against Pakistan. So it's just one of those situations that had that gone our way, it could've sent us into the semifinals. And from there, who knows, anything could've happened in the knockouts.