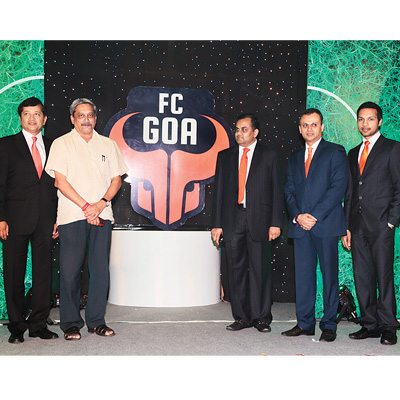 Shrinivas Dempo, the managing director of Dempo Group of companies feels that the existing I-League and the upcoming Indian Super can go hand-in-hand.
"I'm as much passionate about the ISL as I am about my club (Dempo SC). The documents of ISL state that we need to establish a good grassroots programme within three years. I think that will in turn help us develop good players for the I-League. In that way, they can go hand in hand," he said.
He adds that the money made through the ISL can be invested in the I-League.
"When there are official tournaments like the FIFA World Club Cup, the AIFF is going to choose I-League clubs and not the ISL clubs. So, I don't think ISL can kill our existing national League," Dempo said.
He was talking on the sidelines of the launch of FC Goa, the Goa franchise of the ISL, which is co-owned by the Dempo and Salgaocar family. The Videocon group also has a stake in the club.
It's surprising that none of the players of FC Goa are from Salgaocar. But Dattaraj Salgaocar, the managing director of Salgaocar, says that it was a conscious decision.
"None of our players were available as they are busy with I-League preparations. I would have liked them to be part of this wonderful venture, but it was a decision of the management and I had to abide by that. They'd rather that the players concentrate on the I-League."
The Goa team and North East FC United are the only two franchises that have selected their players from their existing I-League teams.
"The players know each other because they practically are always together. In that way, their compatibility increases which ultimately is vital for any team to succeed," said Dempo.
Salgoacar and Dempo are two of the powerhouses of Indian football and have been in the footballing business for over 40 years. So surely they know much more than a thing or two about football.
"We weren't in any hurry to tie up with any international companies or teams like other clubs. Goa has one the best infrastructure in the country, and I think we can make optimum use of it to make us the one best. Basically, we want value add and not just a tie-up for the sake of it."
So what really made the powerhouses of Goa football buy an ISL team?
"We tried seriously with the I-League. But we didn't see that kind of interest. And it isn't possible to start anew overnight. We never took it (I-League) as a serious marketing venture apart from the intense competition. But here is a very professional and commercially viable venture where we can see that league will generate interest and help football to grow. And that's why it was a no-brainer to buy a team in this League (ISL)."