Arsenal manager draws up new list of transfer targets.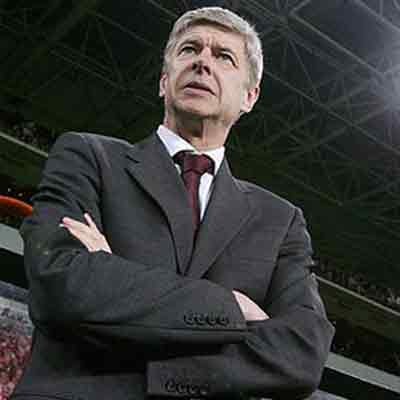 Arsene Wenger has dismissed making a new bid for Luis Suarez this summer and will instead switch to an alternative list of strikers, including Mario Mandzukic, Jackson Martinez, Julian Draxler and Diego Costa.
After initial interest in Gonzalo Higuain, Arsenal focused much of last summer's efforts on Suarez but had two bids turned down, including an offer of pounds 40?million plus pounds 1 that they hoped would trigger a release clause.
Arsenal return to Anfield tomorrow (Saturday) for the first time since that offer was angrily rejected and, with Suarez having signed a new contract, know that they must pursue new options. Despite Suarez's exceptional form - his 23 Premier League goals is more than Olivier Giroud, Mesut Ozil and Aaron Ramsey combined - Wenger is adamant that he does not regret missing out on the Uruguayan. There was a slight hint, however, that he does have second-thoughts still about the departure to Manchester United of Robin van Persie.
"You have sometimes regrets when a player played for you, and scores goals or does well somewhere else," said Wenger. "He [Suarez] was never our player. It is just a situation that did not come off and that is it."
Asked if the situation could be revisited this summer, Wenger said: "At the moment, no." Should Liverpool fail to qualify for the Champions League, the main summer interest for Suarez is expected to come from Real Madrid. Arsenal are now scouting a lengthy list of other options. Mandzukic is likely to leave Bayern Munich this summer following their acquisition of Robert Lewandowski, Jackson Martinez is keen to leave Portugal for an English club following two highly successful seasons for Porto while Wenger still regards Draxler as a player who could be converted into a central striker.
Costa is most likely to join Chelsea but has a release clause of pounds 32 million, while Arsenal will also take a keen interest in the future of any leading English-based strikers who become available, notably Edin Dzeko, Wayne Rooney, Javier Hernandez or perhaps even Van Persie.
Wenger again stressed yesterday that it had never been his plan to lose Giroud but simply to add another option of proven world-class talent in attack. With Nicklas Bendtner highly unlikely to be offered a new contract, that remains the case this summer. "We never wanted to replace Olivier Giroud," said Wenger. "We always had complete confidence in him. He is a very important player for us."
For Liverpool tomorrow, that certainly also applies to Daniel Sturridge, as well as Suarez, with only Arsenal having kept a clean sheet this season when the Premier League's most potent strike combination have played together. Controlling the midfield, says Wenger, will be the best means of negating Suarez and Sturridge. "The key for us is to dominate the game and leave them as few balls as possible," said Wenger. "At Liverpool the task might be a bit more difficult than it was at home but the philosophy on our side has to be the same: To master the ball and to have the ball and to dominate the game." If Arsenal win, they would extend their lead over Liverpool to 13 points but Wenger believes relative positions at the beginning of March will determine whether they are in a three-horse race with Chelsea and Manchester City.
Jose Mourinho, the Chelsea manager, has characterised this race as being between "two big horses and one little horse". Wenger smiled when Mourinho's assessment of Chelsea, who have spent around pounds 500 million more on transfer fees over the last 12 years than Arsenal, was put to him. "They are in there," he said. "It is easy to move out if you don't want. We focus on our side and do not listen too much to what people say. What is important is it is a period where you show up with good performances."
Wenger, though, did appear encouraged at how his previous assessment of Manchester City as beatable was vindicated by Chelsea on Monday. "I told you that one month ago, and you did not believe me," he said. "There is no invincible team."
Mikel Arteta and Alex Oxlade-Chamberlain have been cleared to face Liverpool but Jack Wilshere is a doubt and faces a fitness test today.
"It is important to have as many players back in your squad - the big games are always decided by having as many top players available as possible," said Wenger.
"I am convinced we have the squad. Especially mentally we are prepared, physically as well."