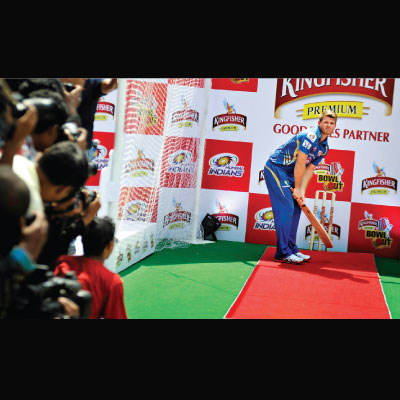 When all-rounder Corey Anderson broke Shahid Afridi's record for fastest century in ODIs this January against the West Indies, the New Zealander became a hot property for the highly entertaining Indian Premier League.
The 23-year-old was among the most expensive players in the 2014 auction, having been bought for Rs4.5 crore by the richest franchise – Mumbai Indians owned by Mukesh Ambani – for his star value and big hitting skills. However, the southpaw hasn't been able to justify his hefty price tag in the league so far.
His scores read 6, 35, 1, 13, 39, 18, 2 in the league with the innings of 35 being the most impressive coming against Kings XI Punjab at the Wankhede. It comprised two sixes and two boundaries, coming in 25 balls and also earned him his first man of the match of the league.
Anderson knows that he has not performed to the best of his abilities and expectations, but he is not taking any kind of pressure and hopes to perform in the coming games.
"I guess there is pressure. Every one does have it. It is just a part of it. Cricket is what we want to perform regardless what we are getting paid. It's about personal pride and try and do as well as we can whenever I go out there," says Anderson.
He understands his role in the team team – of being a big hitter. "That is my strength. Trying to hit boundaries. If I can do that, I am doing my job but if I can contribute to the wins, it is my job as well," he added.
The youngster is not thinking about what is going wrong in his batting. Instead, he is positive. "It is Twenty20. It is the way it goes sometimes goes. Hit one for six and then you get out. The more you think about it, the deeper you feel sort of digging. So, obviously I would like to have done better than what I have. Hopefully at some stage I will be trying to win games for Mumbai," he said.
His form notwithstanding, Anderson is enjoying the IPL. "It is madness. It's my first IPL and I am loving it. It is nice to be back in India and winning games. There is passion and love in Mumbai fans and its awesome," said Anderson.
Has he taken any tips from batting maestro Sachin Tendulkar? "We have got a lot of big names. I have been doing what I can, trying to talk to them, see what I can learn from them with regards in playing. I guess it's just an exciting group and to be a part of it and to be back winning as well. It's a good feeling."
Anderson is happy with the Wankhede pitches, having played two matches on it. "Things have definitely started looking good. It's my second time in India and first time in Mumbai. To be fair, the Mumbai pitch is pretty similar to New Zealand pitch. It's all part of learning and I guess going through losses makes a team stronger. You have got to evaluate where you are."
Anderson was all praise for Kings XI Punjab's explosive batsman Glenn Maxwell, who has lit up the IPL with some breathtaking knocks. "He has been a revelation. He seems to get 80 or 90 every game off just 30 balls. He is a massive part of that Punjab side and all credit to him, he is doing unbelievably well," he added.