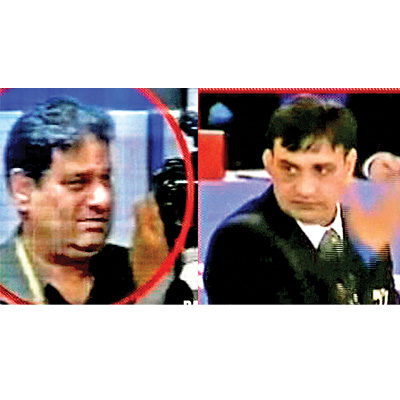 Virender Malik, the wrestling referee who was booked for sexual assault in Glasgow and later let off for lack of evidence, is a relieved man.
"I'm so grateful to the Almighty that all my family members are alive today. It was not just me who was jailed for no crime, but my entire family back home in Sonepat had to go through this ordeal," Malik burst into tears while speaking to dna on Wednesday.
Malik was at the Wrestling Federation of India (WFI) headquarters to tell his side of the story to the inquiry committee looking into the matter.
During his 30-minute interaction with dna, Malik could manage a feeble smile only towards the end on hearing the news that WFI had decided to revoke his suspension.
As soon as Malik was arrested on sexual assault charges in Glasgow, the WFI had suspended him and formed an inquiry committee.
"I'm greatly relieved now. I can tell my family, 'look I've been cleared of all charges'. I'm grateful to the WFI for standing behind me firmly during my time of crisis."
Malik is one of the two Indian officials who purportedly 'shamed' India during the Commonwealth Games. The other person is Indian Olympic Association (IOA) secretary general Rajeev Mehta who was arrested for drunken driving, while returning from a late-night party. Subsequently, the charges against both were dropped after the Indian High Commission intervened.
Malik was not part of the Indian contingent but went to Glasgow as a CWG official referee and subsequently judged many a bout.
"What I had to face there in the Glasgow prison is nothing. But my grown-up daughter could not attend her college. She kept crying, along with my wife who too had to skip her school after watching TV channels running the news," the 44-year-old international referee from Haryana said.
Malik's old mother fell ill after hearing about his arrest. "The police woke me up at 3am and asked me to accompany them to the police station. There, I was asked to go through so many formalities, from fingerprints to blood tests to giving a hair sample for dna test. All this without revealing the name of the victim.
"I kept asking about the victim's name and they kept repeating the secrecy law of their country... And when no one turned up to press charges, I was told that 'I can go as there is no evidence or case against me'."
Malik had no money on him to buy a return ticket for home when he came out of the Scotland prison. It was WFI, which asked its travel company to arrange a ticket at a premium. Malik had to cough up Rs75,000 on his return.
When asked if he was aware about Mehta's ordeal during his detention, Malik said: "No, I didn't know this till the time Indian High Commission officials met me... I met Mehta a few hours before our release. He, too, told me that he was aware of my innocence."
Now that Malik has been cleared of all charges and can perform his duties normally, will he pursue any legal case against the Scottish agency or any Indian media company for tarnishing his name?
Though he's unsure, Malik said: "Media people should understand that it could happen to anyone. These kind of irresponsible stories could have taken the life of a family member. I can only plead with folded hands to be careful in future. I'm a son, husband and father of grown-up children."
There were no charges against me: IOA General Secretary
Will Rajeev Mehta file a case?
"There are no charges. I was free that time, I am free right now. Everything and every investigation has been done. Maybe I will file a case against the Scotland police. I will talk to my lawyer." — IOA general secretary Rajeev Mehta