Jwala Gutta reacts to split with Ashwini Ponnappa, says her erstwhile partner has better future being younger.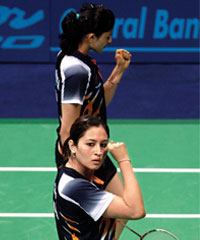 Jwala Gutta, the senior partner of the Gutta-Ashwini Ponnappa pair, has taken the split in her stride and moved on. Separated from the Hyderabadi left-hander, Ashwini has decided to pair up with Pradnya Gadre on a long-term basis. Gutta hoped India would now have two formidable women's doubles pair.
Talking to DNA after a training session on Thursday, Gutta said, "Ashwini wanted to play with Pradnya and I was totally fine with it. I promised Prajakta Sawant that I would play with her, and Ashwini promised Pradnya that she would partner her. Perhaps, she was more comfortable playing with Pradnya. I have no problem with that. As I've always said, I am one player who can play with just anybody."
Gutta said she was excited at the prospect of playing with Prajakta in the women's doubles in India Open in New Delhi next month.
Going back to the Gutta-Ashwini pair, the left-right combination brought laurels to the country, including bronze at the 2011 World Championships, gold at the 2010 Commonwealth Games, besides making their maiden appearance at the 2012 London Olympics.
Gutta said, "It (the split) is part of life. Be it in our profession or personal life, such things happen. I wish her luck. She (Ashwini) is young and I hope she does better than me. She has more scope. I may play for the next four years but she can play longer."
Jwala, 29, was on sabbatical, post Olympics. She marked her return to competitive badminton at the All England Championship earlier this month by playing mixed doubles with V Diju.
"The comeback was not bad. I was not fully fit. I thought the first match (against Germans Peter Kaesbauer and Isabel Herttrich) would be difficult. I was a little nervous but it ended up being an easy game (Diju-Gutta won 21-9 21-17). It made my comeback easier. My aim is to be as fit as I was in the CWG." However, the pair lost in the second round to Poland's Robert Mateusiak and Nadiezda Zieba 17-21 16-21.
Once partners on the court, Jwala could face 23-year-old Ashwini on the other side of the net in the future. "Once she is my opponent, I would like to win. Off the court, we are friends," Jwala said.
Jwala felt Ashwini and herself had identical goals, which helped them carry on with good results. "We understood each other. We had a similar aim to do well and that really mattered."
@Gkspts