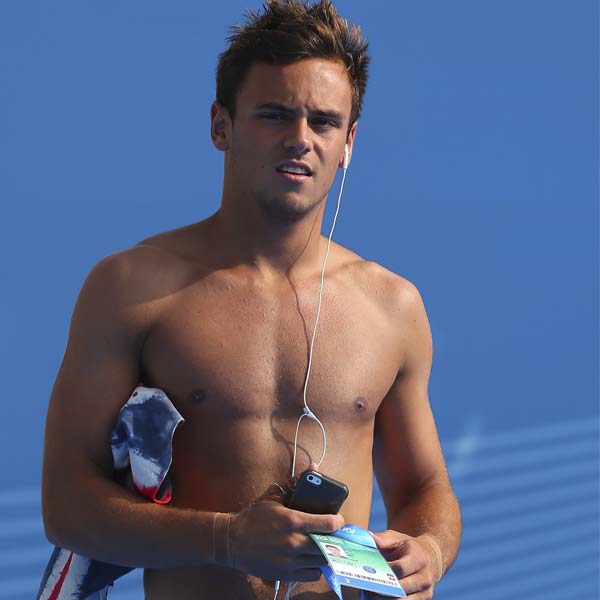 Tom Daley, the Olympic medal-winning diver, was praised for being a role model on Monday after disclosing that he was in a relationship with another man. Daley, 19, used a video message on YouTube to tell his many fans that he "couldn't be happier" since he had met a romantic partner. He said he now felt comfortable enough to talk about his sexuality, disclosing that he had met someone who "makes feel so happy, so safe … and that someone is a guy."
However, he offered some hope to many of his young fans. "Of course I still fancy girls," he said. "But right now I'm dating a guy." Daley, who won a bronze medal at London 2012, was immediately praised by celebrities and sports leaders. They said his honesty could encourage others to come out. Kyle Minogue, the singer, said the diver was "inspiring". Matthew Pinsent, the Olympic rower, praised his "brave decision", and Stephen Fry, the broadcaster, offered his "congratulations".
Gary Lineker, the TV announcer and former footballer, said he hoped young footballers wondering whether to come out would be "encouraged" by the "groundswell of good feeling". Hours after his disclosure, Daley thanked the public for their response, saying he was "overwhelmed" by the support, which "means the world". The diver, who has endured bullying online and as a schoolboy, said his disclosure received "mixed opinions" from his extended family. Some of his relations told him to "keep it quiet".
His YouTube disclosure was delivered against a background of Union Flag pillows. He said his life had "changed massively" since he began dating a man earlier this year. "I've never really had a serious relationship to talk about," he said.
"Now I kind of feel ready to talk about my relationships. "Come spring this year, my life changed massively when I met someone and it made me feel so happy, so safe and everything just feels great. And that someone is a guy." The teenager, who has faced questions over his sexuality in the past, admitted the relationship had taken him "by surprise a little bit". "It was always in the back of my head that something like that could happen," he said. "But it wasn't until spring this year that something just clicked. "It felt right. My whole world just changed, right there and then.
"Of course I still fancy girls. But I mean, right now I'm dating a guy and I couldn't be happier. It makes me feel safe and just really does feel right." Daley, whose father Rob died in May, 2011, from brain cancer, added: "People will think 'What will your dad say?' or 'What would your dad have said?' "He always said to me: 'As long as you're happy, I'm happy.' And right now I couldn't be happier."
Daley praised his mother Debbie for her support but claimed that he had heard "mixed opinions" from others in his family. "Lots of them didn't believe it," he said. "Lots of them wanted me to keep it quiet. Some said: 'Why don't you do a statement? Why don't you do a magazine cover? Why don't you do a TV interview?' "I didn't want to get my words twisted. I wanted to put an end to all the rumours and speculation.
"I'm still Tom. I still want to win an Olympic gold medal at Rio 2016 for Great Britain. I'm still as motivated as ever." He said the decision to disclose details of his relationship came after he was misquoted in an interview.
"Honesty is something I really believe in," he said. "I've always been honest. I may have been vague in some of the answers but I've always been honest." Edward Lord OBE, chairman of the Amateur Swimming Association group board, said: "We must all support Tom in taking this incredibly courageous step.
"To be one of the first British Olympic athletes to come out is very brave." Daley has gained millions of young fans since representing Great Britain at the 2008 Beijing Olympics aged just 14. He went on to win two golds at the Commonwealth Games in Delhi in 2010, before adding an Olympic bronze medal in the men's 10m platform event at London 2012.