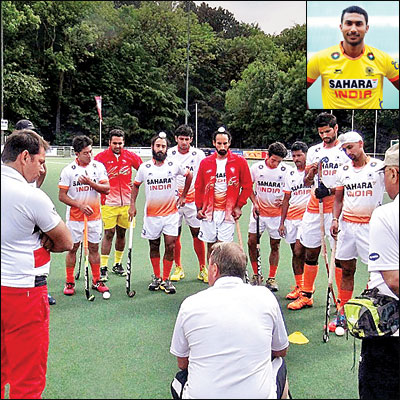 It's been eight years since VR Raghunath last donned the India jersey at a World Cup. From an 18-year-old drafted as a replacement for the injured Sandeep Singh in the 2006 World Cup to being one of the senior-most players in the squad, times have surely changed for this dragflicker.
With 154 caps, Raghunath is just behind skipper Sardar Singh and Gurbaj Singh in terms of international experience. And as the team is gearing up for the 2014 FIH Hockey World Cup that begins on Sunday at The Hague, Raghunath knows that with the experience comes the responsibility of guiding the youngsters, some of whom have never known how it is to play in a World Cup.
"Yeah, this is the time for me to take responsibility in the team," Raghunath told dna. "I have to take the burden now to support our youngsters and push them to the maximum level. I enjoy taking that responsibility. When I played my first World Cup, my seniors did that. Now, it's my time."
A lot has been said about where the Indian team stands going into the World Cup, with head coach Terry Walsh saying that a top eight finish should be the target. Ask Raghunath if the players think the same too, and pat comes the reply, "Look, this is not the right time to think about a podium finish. I really don't like to give false, tough statements. Let the score be whatever it is, but we 18 boys should give our heart out. If we do that, cover each other shoulder to shoulder, cover each other's mistakes and help each other, the performance will not be a big issue. Team bonding is more important."
The man from Coorg felt that as the tournament nears, the mindset of the players will matter more than their physical fitness. And he said that is something Walsh has laid emphasis on.
"Walsh has increased the motivation levels of the boys. We faced the European teams (in the preparatory tour) in a very positive manner. There is more positive energy now in the team than negative energy. I think that's more important.
"He has also worked on our mindsets, on how to play in such a big tournament like the World Cup. The mindset will matter a lot as the tournament nears, because your mind should be very stable to perform in such pressure situations," the 25-year-old said.
India are placed in Pool A along with Australia, Belgium, England, Spain and Malaysia. The boys first take on Belgium on Sunday, and Raghunath said that starting well will be the key.
"Even a below average team coming into the World Cup will play hard. Thus, you will see even top teams losing. So it's very difficult to assume which team will be tough. But they will be 100 per cent prepared to face us and we will be 100 per cent prepared to face them.
"It will all come down to which team does a better job of utilising resources, penalty corners and opportunities on that day," Raghunath said, adding that they have worked out strategies for every opponent.
Talking of penalty corners, Raghunath felt defence, and particularly penalty corner conversion, will be the key if India are to do well among the other heavyweights.
"The penalty corner battery that we have now is one of the most threatening in the world. Everyone will be watching us keenly. Rupinder (Pal Singh) and myself will always be in the penalty corner strike. So that is a big advantage and a weapon for us.
"There's no doubt that the opposition will be putting a lot of pressure on us. But we're up for the challenge and we'll make sure that we play to our best," he said.