On June 2, Chelsea mid-fielder Frank Lampard announced that he will leave the club. Lampard has been with Chelsea for 13 seasons, and during this period, he became Chelsea's all time top goal-scorer, won three Premier League titles, four FA cups, two League Cups, two Community Shields, one UEFA Champions League and one UEFA Europa League. Frank Lampard is the only player to score al least 10 goals in the Premier League for 10 consecutive seasons (2004-13). During this period, Lampard scored at least 20 goals in all competitions on 5 consecutive occasions (2006-10). Lampard has also made 164 consecutive Premier League appearances, a record for an outfield player. Frank Lampard has been Chelsea Player of the Year on three occasions. Lampard is one of seven players, and the only midfielder, to have scored 150 or more goals in the Premier League. He is behind Ryan Giggs in the Premier League's all-time assists table. In 2005, Lampard was voted FWA Footballer of the Year and was runner-up in both the FIFA World Player of the Year and the Ballon d'Or. In 2010 he received the FWA Tribute Award.
Being one of the best midfielders in the world, here are the highlights of Frank Lampard's club career:
1996: Lampard began his career at West Ham United, which was his father's former club. He made his first start for West Ham, on 17 August 1996, in a 2-–0 away defeat to Arsenal.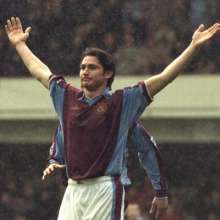 2001: Lampard joined Chelsea FC for £11 million in June 2001.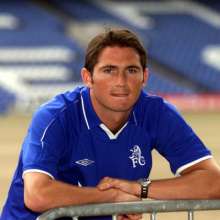 2003-04: After scoring 10 goals for the first time in his career, hee was named in the 2004 PFA Team of the Year.
2004-05: He finished with 13 goals in the league, and 19 in all competitions. On March 19, 2005, Lampard scored a long-range goal from 30 yards against Crystal Palace in the Premier League.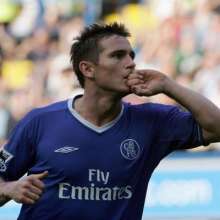 Lampard celebrating his goal against Crystal Palace
In the Champions League, Frank Lampard scored a famous goal against Bayern Munich.
In April 2005, Lampard a brace against Bolton Wanderers in a 2–0 win, which was the Premier League title winning match for Chelsea. It was his first major trophy of his career, and also Chelsea won their first top-flight title in fifty years, by a twelve point margin. Lampard was named as Barclays Player of the Season for 2004–05.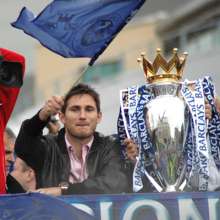 Frank Lampard with Chelsea's first Premier League Trophy in 50 years
2005-06: Lampard finished as runner-up to Ronaldinho for the Ballon d'Or as well as FIFA World Player of the Year awards. Manager José Mourinho hailed Lampard as the "best player in the world" after Chelsea's match against Blackburn Rovers in a 4–2 win, which included a free-kick from 25 yards. Lampard was Chelsea's top-scorer with 16 league goals. That season, Chelsea won the Premier League for the second consecutive season.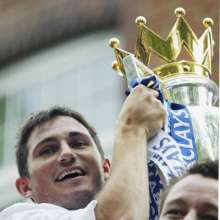 Lampard was instrumental in Chelsea's second consecutive Premier League title
2006-07: In the Champions League, Lampard scored a goal against Barcelona from an extremely tight angle.
That season, Lampard also scored a career high 6 goals in the FA Cup. On 6 January 2007, Lampard scored his first Chelsea hat-trick in the third-round tie against Macclesfield Town.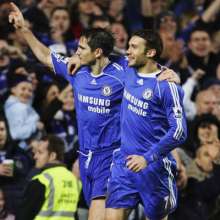 Lampard celebrating his hat-trick
On 19 May 2007, Lampard made an assist to Didier Drogba in the 2007 FA Cup Final, which was the winning goal in extra-time. Chelsea won the match 1–0 against Manchester United.
2007-08: On 16 February 2008, Lampard became the eighth Chelsea player to score 100 goals for the club after a 3–1 FA Cup fifth-round victory over Huddersfield Town. After the final whistle, Lampard flashed a T-shirt to the Chelsea fans with "100 Not Out, They Are All For You, Thanks."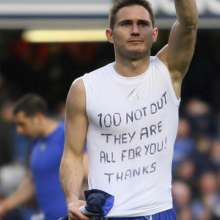 Lampard scored an equalising goal in the 45th minute, in the Champions League final against Manchester United in 2008. However, Chelsea lost 6–5 on penalties. Later, he was named UEFA Club Midfielder of the Year.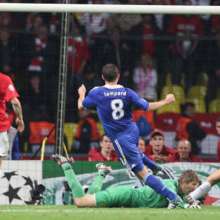 Lampard scored the equalizing goal against Manchester United in the 2008 Champions League final
2008-09: After signing a new five-year contract with Chelsea worth £39.2 million on 13 August 2008, Lampard became the highest-paid Premier League player that season. 13 September 2008, Lampard scored 150th goal of his career against Manchester City.Lampard's 20th goal of the season was the winning goal against Everton in the FA Cup Final , which was a left-foot shot from long-range. He displayed the corner flag celebration his father, Frank Lampard Sr. had done after scoring the winning goal in the 1979–80 FA Cup semi-final second leg against Everton.
It was the fourth consecutive season that he scored 20 or more goals. He was named later named Chelsea's Player of the Year for the third time.
2009-10: On 30 October 2009, Lampard was nominated for the FIFA World Player of the Year award for the sixth straight year. For the fifth consecutive season, Frank Lampard took his goals tally past 20. Scoring 22 league goals, and 27 in all competitions, Lampard helped Chelsea secure their third Premier League title.
2011-12: 2 October 2011, Lampard scored a hat-trick against Bolton, which was a 5–1 thrashing.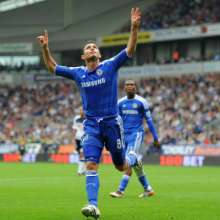 Lampard celebrating his hat-trick against Bolton
Lampard helped Chelsea make a remarkable comeback from being 3-1 down to Napoli to win 4-1 in the second leg. He assisted John Terry from a corner for the second goal and then equalized the aggregate as he scored from the penalty spot with a powerful shot to the left of the goal. He also captained Chelsea in their Champions League finale victory over Bayern Munich.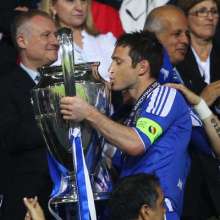 In the 2012 FA Cup finals, Lampard assisted Drogba's winning goal in 2–1 win over Liverpool. Lampard ended the 2011–12 season as Chelsea's topscorer with 16 goals in all competitions, along with 10 assists.
2012-13: On 12 January 2013, Lampard scored from a penalty in the 4–0 win over Stoke City, which made him Chelsea's second highest goal scorer of all-time with 194 goals and moved him clear of Kerry Dixon, putting him 8 goals behind Bobby Tambling in first. Later, Lampard scored his 199th goal for Chelsea in a 4–0 FA Cup victory over Brentford on 17 February. That goal made Lampard Chelsea's all-time leading FA Cup goalscorer with 26 goals. Lampard's 200th Chelsea goal came against his former club West Ham on 17 March 2013. On May 11, Lampard equalled Bobby Tambling's record with a long range goal from just outside the box in the 61st minute. In the 88th minute, he scored a second goal, breaking Tambling's record and helped Chelsea secure a 2–1 victory.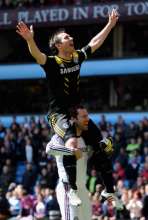 Lampard celebrating after becoming Chelsea's all time top goal-scorer
Chelsea won the Europa League that season.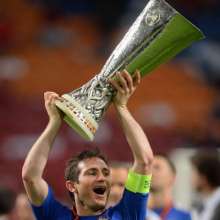 2013-14: On the opening day of the season, Lampard scored a free-kick in a 2–0 win against Hull City.
On 1 October, Lampard scored his 205th goal for Chelsea in a 4–0 win over Steaua Bucharest in the Champions League. On 23 November 2013, Lampard scored his 206th and 207th goals for Chelsea against his former club West Ham in a 3–0 win. Lampard moved to 4th on the all-time Premier League goal-scoring list on 2 December by beating Robbie Fowlers amount of 164 goals. On 23 May 2014, Lampard was included on the list of players released by Chelsea. On June 2, Lampard announced he will leave the London club.