Indian motorsport racer Narain Karthikeyan, about to compete in Super Formula 2014 in Japan, says no to Formula One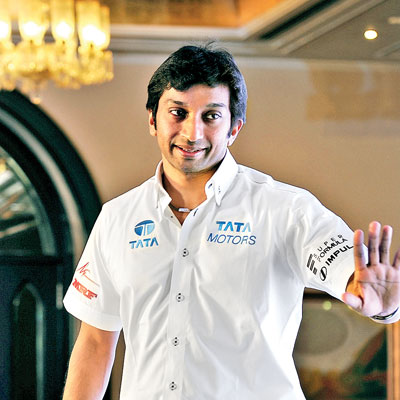 He may have rubbed shoulders with world-class drivers, but Narain Karthikeyan – India's Formula One (F1) poster boy – doesn't have plans to return to F1. He is content oiling his engine for the Japanese Championship Super Formula 2014 starting April 13.
"I never say never but F1 is a complicated business now. I am happy doing what I am doing because the satisfaction is the same or more, and there is also a chance to win," says Karthikeyan, who secured four pole positions and finished fourth in the Auto GP World Series last year.
Super Formula, earlier known as Formula Nippon, has been on track since 1973, and drivers like Michael Schumacher, Eddie Irvine et al have also competed in the event. Similar to the 2014 F1 regulations, the V8 engines will be replaced by two-litre, 550 bhp turbocharged engines. Karthikeyan will be driving for Team Impul Hoshino Racing.
So is he wary of the tracks in Japan? "The circuits are not for the faint-hearted. There will be eight races in five tracks. Though we will barely get an hour to practice before the qualifying round, it is not much of a concern for we are experienced," adds the 37-year-old.
The cars driven in the Super Formula aren't that different from the F1 ones. They cars can speed upto 300 kmph with a fuel stop.
"I never imagined the cars could be as fast as an F1 car. The difference is only five to six seconds. The contenders are strong and the level, very high. And as far as I heard, there might be live telecasts so it is a good thing for the fans here," he said.
Talking about the new F1 rules and the Red Bull threatening to quit, Karthikeyan said: "Engine rules are relevant to road cars. I also heard other manufacturers who left F1 in 2009, are planning to get back. Talking about Red Bull, I don't think they will quit."
The racer, who is from the family of motorsports enthusiasts— his father being a former Indian national rally champion— is saddened with the state of affairs concerning Indian Grand Prix.
"I met Sameer Gaur (CEO, Jaypee Sports) on Sunday and he is still confident that the race may come back," he says.
But it is a fact that races, once off the circuit, has not returned. Mexican Grand Prix (1962-1992) and French Grand Prix (1906-2008) can be taken as examples and Karthikeyan agrees to that but he says, "India is different, it is a new market."
"The future of F1 in India depends whether it comes back. There are a lot of venues. There should be an effort to bring it back. India needs it," he adds.
When asked whether a change in the UP government can benefit F1, the racer said: "You can never say with politicians here. You never know what will happen. But they should take it as a world-class sport as it is and not entertainment. All our neighbours, China, Singapore have it. It is a high-profile event watched by millions. They should look at it from that point of view," he said.
Before signing off, he expressed grief about Michael Schumacher's condition, "It's very unfortunate for something like this to happen to a fellow sportsperson. It is a bad feeling."
wriddhaayan.b@dnaindia.net