South African batsman's brother Ahmed Amla a first class cricketer himself talks about their growing up years, all the sports they played and why they were 'couple of rascals'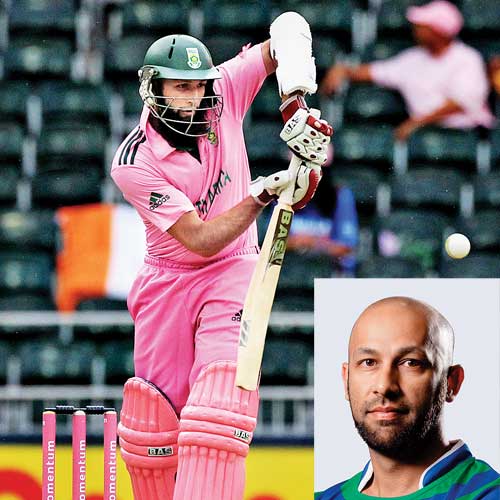 Unlike his brother, Ahmed Amla doesn't have a flowing beard. But he does have an insane sense of humour. Given that he is four years senior to Hashim, one thought he may have had a role to play in his little brother's initiation to cricket. "No man, I just bullied him," Ahmed says.
The 34-year-old played 128 first-class matches, most of them for KwaZulu-Natal, in a career spanning 16 seasons. A right-hander, he scored over 6,500 runs at an average of 34 with 13 hundreds and 33 fifties.
"Hashim was always a top-rated player," Ahmed says. Not surprising, eh? He averages over 50 in both forms of the game and is in the running for the ICC Cricketer of the Year as well as the ICC Test Player of the Year. Needless to say, he's part of the ICC Test and ODI XIs.
Born and raised in Tongatt, which is about 40 km from Durban city centre, to a general practitioner-homemaker couple, the brothers played a lot of sport. "We used to play backyard cricket. But we didn't play just cricket. We were good at tennis, football a whole variety of sports," Ahmed says.
So didn't the father expect the boys to excel at school? "Tell me about it, man," he laughs. "Actually, we were very fortunate. Our father (Dr Mahomed Amla) is a very open-minded person. Our mother had a harder job. She had to look after a couple of rascals. It was tough. We also have a sister in between. But she never liked watching cricket. Actually, we don't talk about cricket and stuff at home. But we were lucky because our immediate family and extended family backed us," adds Ahmed who is married with two kids.
"Hashim is married and blessed with two kids and hopefully many more." Do they play cricket.
"Nah, the little guy is old enough to hold his animal toys."
So is Hashim shy? Seems so. Bespectacled and quiet, you never see him do anything unwanted on the field. Ahmed takes offence. "Man, you watch a lot of movies, eh? My brother is not shy. He is a top guy. He is a tough guy, you see."
And how is that? "That's because I used to whack him hard when we were kids," adds Ahmed, who is now a brand manager at a soft-drink company.
"When I started playing, which is about four years before Hashim did, I never thought I would be a professional cricketer. So I went straight to varsity. I tried to do some science degree, but there was no time. So I managed to complete commerce degree. It's helping me now." So what did Hashim study? "I am not too sure, huh. I don't think he completed his degree."
Does he feel bad his brother doesn't play in the IPL? "I don't know. I am not too sure. Maybe nobody wants to buy him. Who cares about all that, man? Hashim is a top guy man."