Looking to make Test comeback, off-spinner is flighting the ball, showing patience and even blowing goodbye kisses to batsmen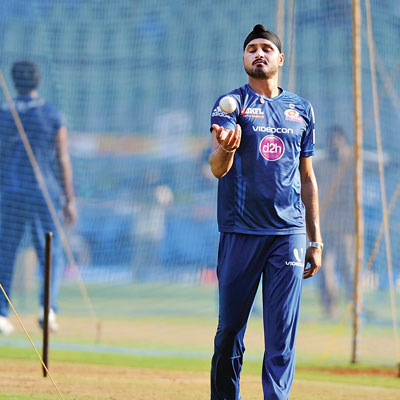 You know Harbhajan Singh is feeling really good about himself, and his bowling in particular, when he gives those flying goodbye kisses to the batsman after taking his wicket. It's vintage Bhajji, isn't it?
It's been a while since we saw that from the 33-year-old ever since he was dropped from the Indian team in March last year. Cut to Tuesday, and Royal Challenger Bangalore's Parthiv Patel and Chris Gayle were at the receiving end of a revived Harbhajan, the terminator who seems to have found his mojo again.
Coming in to bowl the fourth over of the innings, Patel slogged him for a boundary in the second ball itself. Unperturbed, Harbhajan stuck to his flight. He got his man in the first ball of the very next over, tossing the ball up from around the wicket to hit the timber as Patel tried the slog again. He loved that wicket. The goodbye kiss followed.
But greater challengers lay ahead. Gayle took it upon himself to attack Harbhajan, smacking him for a four and a huge six three balls after Patel's wicket. Maybe the Harbhajan of the past would've resorted to bowling flat, trying to stop the run-flow.
However, this was a Harbhajan high on confidence, who's sole objective was to get the big fish. And he did it exactly how he flummoxed Gayle, tossing the ball up, slowing it up even further. Gayle missed his slog, the timber was disturbed again, Harbhajan was down on one knee, pumping his fist. He stayed there for a few seconds. He made a statement.
One of the four Indian discards who are trying to claw their way back into national reckoning in ODIs and/or Tests — Virender Sehwag, Gautam Gambhir, Yuvraj Singh being the other three — the tweaker is making all the right noises in terms of performances in a format where it wouldn't be a crime to replace the bowlers with bowling machines.
Even in Mumbai's first home game against Kings XI Punjab, Harbhajan got two of their biggest threats, Glenn Maxwell and skipper George Bailey. He's picked up six wickets so far in the seven matches, at an economy rate of 6.37. But it's the manner in which he's stepped up to become almost the leader of Mumbai's bowling attack – especially after Zaheer Khan's loss – that will give hope to his fans that a national recall might not be that distant a dream.
"Very happy," MI skipper Rohit Sharma said when asked about Harbhajan's form. "He is someone we always look forward to take wickets. What's more pleasing to see about his bowling is that he's flighting the ball, trying to look for wickets and not being defensive. Which is very important for us. We expect a lot from him, and he's delivering every game."
Maybe that's the reason why during Friday's practise session at the Wankhede, Harbhajan stuck to the flight in the nets, despite the likes of Ambati Rayudu and Michael Hussey taking him on. Maybe the presence of MI mentor Anil Kumble – who bowled alongside him in the net, almost reminding us of the good ol' days —7 is helping him.
Bowling adjacent to their nets was Chennai Super Kings' R Ashwin, trying his usual umpteen variations, bowling the odd short ball and even a full toss. Maybe that paints a picture, maybe that says something.
One really doesn't know whether Harbhajan will board that flight to England or no, but rest assured, those flying goodbye kisses might just be here to stay.