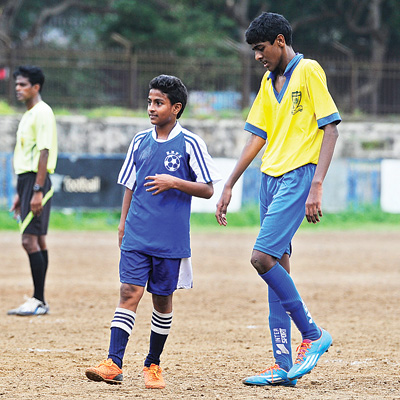 The football team of Hansraj Morarji (Andheri) didn't waste much time warming up before their U-16 MSSA Division III quarterfinal tie against Maneckji Cooper (Juhu) at the MSSA grounds, Azad Maidan on Wednesday. The team comprising of ninth and 10th standard boys had given their Marathi unit test a few hours ago and couldn't wait to get on the field. Eagerness soon paid dividends as the Andheri side booked their place in the last four with a 5-1 win.
"We couldn't wait to get to the field. All that we discussed in the bus from Andheri to CST was who would play, how would we play. When we woke up in the morning, it was this match more than the unit test that mattered to us. We couldn't wait to get started," said Anuj Kokamkar, who scored a brace.
It took Morarji just 10 minutes to open their account, Maneckji Cooper 'keeper charging towards Kevin Vesawkar got the player instead of the ball and gave away a penalty, which captain Adwait Mhatre converted with ease. Four minutes later and they were 2-0 up, this time via striker Kamran Sidiqui.
The third and fourth goals would make deadball specialists like David Beckham and Cristiano Ronaldo proud. With majority of play being played in Cooper's half, Kokamkar didn't have much to do for most of the match as a defender.
When he made the long walk from defence to take the free kick, one knew that he was the first choice free kick taker. His first goal had the perfect combination of speed and dip leaving the Cooper goalkeeper with no chance. He once again bent the ball to perfection via a free kick just after the half-time interval at the 31st minute.
Cooper pulled one back through captain Siddhant Tak but Morarji had the last laugh with a goal from Sarim Pathan, who was a constant threat to the defence with his darting runs from the left flank.
What made his performance stand out was he being one of the shortest players on the pitch winning every duel against the tall and burly defenders, "they (taller defenders, don't scare me. They can't move as fast as me," said Pathan.
Coach Kishore Rajguru was delighted with the result. "The boys couldn't wait to get done with their paper. You could see it the moment they stepped into the bus. It was equally important that their over enthusiasm doesn't get the better of them."
Stopwatch: Hansraj Morarji (Andheri) 5 (A Kokamkar 2, A Mhatre, K Sidiqui , S Pathan) bt Maneckji Cooper (Juhu) 1 (S Tak), St. Pius X HS (Mulund) (5) (A Michael 2, R Johny 2, P Stephen) bt Sacred Heart (Santacruz) (0), Thakur Vidya Mandir (Kandivali) (3) (A Shaikh 2, K Vishwakarma) bt Bombay Scottish (B) (Mahim) 1 (K Chawla), Arya Vidya Mandir (Juhu) 2 (S Oberoi, A Mishra) bt St Paul(A)(Dadar) 1 (V Parab)