Twitter 'disrespect' row set to undermine team's hopes. Problems likely to worsen ahead of move to Mercedes.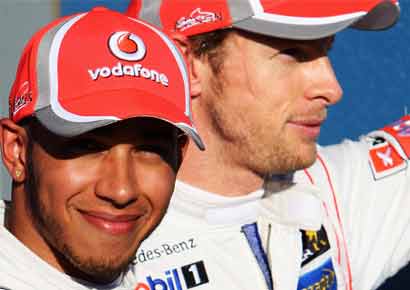 McLaren's already uphill struggle to win this year's drivers' and constructors' titles has become harder still in the wake of Lewis Hamilton's latest Twitter faux pas, which hints at increasing tensions within the team.
Hamilton accused Jenson Button of "disrespect" following Sunday's Japanese Grand Prix after erroneously believing his McLaren team-mate had 'unfollowed' him on the social networking site. "Just noticed @jensonbutton unfollowed, that's a shame... I thought we respected one another but clearly he doesn't," the 27 year-old told his 1,000,000-plus followers.
When Hamilton realised that Button had, in fact, never followed him - something which the elder driver had made public weeks ago when a previous story broke over the internet - he rowed back on his earlier comments: "My bad. just found out Jenson never followed me. Don't blame him!" The damage, though, had already been done. The carefully constructed myth of a cosy relationship between the pair - always bogus - was shattered, in its place only questions about how it will limp through the final five races of the season.
It is common knowledge that Button and Hamilton are not the best of friends; that they do not socialise away from the track. But neither are they enemies. Both work hard to maintain the illusion that they are congenial, in Vodafone adverts and marketing virals, for instance, or in the animated series Tooned which features their cartoon alter egos. But the mistrust has been growing for some time, notably since the middle of last season when Hamilton's behaviour became increasingly erratic. There was the episode at Monaco when Hamilton accused the stewards of picking on him for the colour of his skin; there was the occasion he marched into Red Bull's motor home in Montreal and asked to speak to team principal Christian Horner; the run-ins with Ferrari's Felipe Massa. Button's performances over the same period, which led to him becoming the first of Hamilton's team-mates to beat him over a season, cemented his place within the team just as Hamilton's was becoming less secure. Hamilton has, for the most part, driven brilliantly this year - his blistering speed reinforcing why McLaren tried to re-sign him despite all the baggage - but his tweeting of confidential team telemetry in Belgium last month, at the same time as he was negotiating with both Mercedes and McLaren, eroded trust still further. Button said at the time that he was "disappointed" with Hamilton's behaviour.
Hamilton has already fallen out with McLaren's executive chairman Ron Dennis, their relationship now decidedly frosty after Hamilton opted to quit his boyhood team for Mercedes next year. The 2008 world champion revealed last Wednesday that he and Dennis had not spoken since the move was made public the previous week.
Then at the weekend Hamilton erred in his choice of set-up, leading to inevitable questions about the extent to which technical information is being shared between the two sides of the McLaren garage, with one driver defecting to a rival team in a couple of months. Hamilton qualified ninth and finished the race in fifth place, although he did manage to reduce the deficit to Ferrari's championship leader Fernando Alonso by 10 points to 42. His chances of overhauling the Spaniard, or Red Bull's Sebastian Vettel who is 38 points ahead of him, can only have been damaged by this latest controversy.
Button made a couple of remarks on Sunday night which could be construed as pointed in the light of Hamilton's tweet, agreeing that it was now a "two-horse race" for the drivers' title between Alonso and Vettel, and remarking that he could "sleep soundly in my bed at night" knowing that he would have a car which will fight for the championship next year. Mercedes have so far done little to suggest they will be competing for the championship in 2013.
Fans on Twitter were divided over whether to criticise or applaud Hamilton for his honesty. He made the extremely valid point recently that we lambast sportsmen for being sterile and then jump on them when they offer an opinion. "At the beginning you have to do what you are told, you have to do what is best to keep everyone happy," he said. "I'm at a point now where I don't think I am making anyone unhappy by what I am saying or doing." His tweet may have been an honest reaction to a perceived snub - or a real snub given that Button has never followed him - and perhaps he should be applauded for that honesty, but it certainly hasn't helped his relationship with his soon-to-be-ex team-mate or team.
Driven crazy: F1's greatest team-mate rivalries
Hamilton vs Button has a long way to go before it can match some of the all-time classic F1 team-mate wars:
1 Alain Prost v Ayrton Senna
McLaren 1988-89
The daddy of all team-mate rivalries. Senna won the 1988 title in controversial circumstances, and the pair's relationship grew increasingly bitter. It ended in a notorious collision at Suzuka, which saw Senna disqualified post-race and Prost awarded the title.
2 Nigel Mansell v Nelson Piquet
Williams 1986-87
Another rivalry so punchy it would make today's drivers wince. Piquet, the established champion, did not take kindly to brash upstart Mansell and was infuriated not to be awarded No?1 status at Williams. They took so many points off each other during the 1986 season it let Prost through to become champion.
3 James Hunt vs Jochen Mass
McLaren 1976-77
How would Hunt have coped in the age of Twitter? He would not have been short of followers, that's for sure. Hunt famously decked a marshal at the 1977 Canadian GP after colliding with his team-mate (whom he called 'Herman the German') as he was lapping him.
4 Gilles Villeneuve vs Didier Pironi
Ferrari 1981-82
A rivalry tinged with tragedy, after Pironi refused to obey team orders at Imola in 1982. Villeneuve swore he would never speak to his team-mate again and the Canadian died two weeks later at Zolder, trying to beat Pironi's qualifying time.
5 Fernando Alonso v Lewis Hamilton
McLaren 2007
Alonso arrived as the double world champion, Hamilton was the rookie who finished on the podium in his first nine races. The Briton refused to give way to Alonso in qualifying in Hungary and the Spaniard blocked his attempt to set one last time.