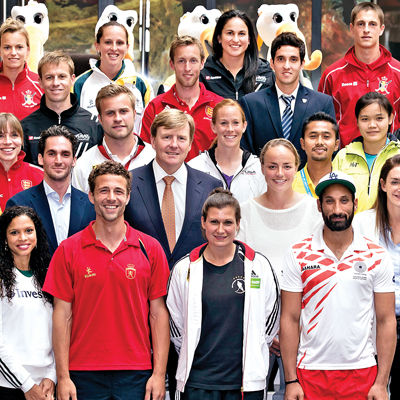 Impressive Opening reminds Oltmans of 1998
The impressive Opening Ceremony on the eve of the World Hockey World Cup reminded Dutchman Roelant Oltmans, the high performance director of the Indian Team, of 1998 when he coached the Dutch men's team to the gold medal. "Then there was music as well. These ceremonies are always nice, because you meet people from all over the hockey world."
His Majesty King of Netherlands Willem-Alexander was present at the official welcome and posed for photographs with the teams and the mayor of The Hague Jozias van Aarsten greeted the gathering on behalf of the host city.
Musical Tour of 15 countries
The highlight of the Opening was a Cultural Music Tour of all 15 participating teams. The members of the Band, sporting uniforms of various teams, played different instruments, to mark the presence of each of the teams at this World Cup. Among the performances was the Table as an offering to celebrate India.
The 75-minute musical opening ended with all the captains coming onto the foot of the stage and engaging in aerial dribble as the ensemble played the theme song of the Tournament, "Let's Celebrate Hockey".
Nine countries have teams in both sections
The 2014 event showcases 15 nations, 24 teams and 432 athletes. Nine countries have teams in both men and women's sections, while India, Spain and Malaysia are represented only in men and Japan, China and USA figure only in women's competition. The teams in both sections are Australia, England, Belgium, Netherlands, Germany, New Zealand, Korea, Argentina, South Africa
The 2018 World Cups will be hosted in India, for the men, and England, for the women and both events will feature a new 16-team format, up from 12 this year.