Despite ankle injury, fast bowler takes field in hope of guiding team into final; says he's eyeing national recall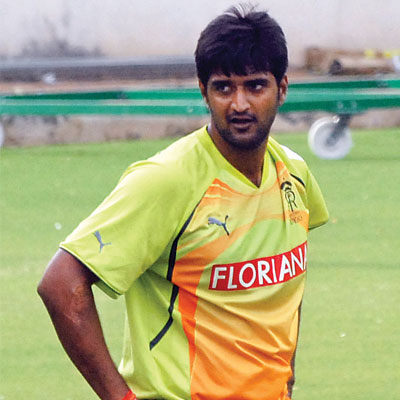 As far as fitness is concerned, Pankaj Singh has been unlucky and he is not getting any younger. Despite injuries, the Rajasthan pacer has been consistent in Ranji Trophy but is not part of plans for national team as the younger bowlers have forced their way up.
Despite an ankle injury, the 28 year old pacer played in Rajasthan's last match of the Syed Mushtaq Ali Trophy T20 Super League as they had to win to qualify for the Super League. Rajasthan played their first two matches against Bengal and Kerala without Pankaj and won in contrasting fashions.
Stand-in captain Rajesh Bishnoi (Sr) said after Rajasthan chased down Kerala's total of 172 on Thursday that they wanted to win it for Pankaj.
"As his ankle did not heal and was not going to get better, he wanted to go back home. It was also Navratri back home. But we forced him to stay as we needed his presence, his inputs," said Bishnoi.
In the crucial tie on Friday against Baroda, who seem to be doing no wrong as they have won all their Super League matches and the winner likely to book the final berth, Pankaj took the field with his ankle taped. He tried his best to guide Rajasthan to victory. But Rajasthan batsmen posted only 103, done in by the Baroda seamers comprising Lukman Meriwala, Rishi Arothe and Hardik Pandya on a helpful pitch.
Rajasthan coach Pradeep Sunderam said: "Pankaj was keen to play because of the importance of the match. He played with pain killers."
Pankaj was seen having a chat with senior selector Sandeep Patil before one of his matches and his confidence has grown manifold, even getting "positive feelers" from the men who matter the most.
"I am bowling well at the moment. I have still not given up hope of playing again for the country. I was included in the Irani Cup for the Rest of India side recently. So, I am still in the selectors' view. There is hope," Pankaj told dna here.
Pankaj took 6/122 in Karnataka's only innings as the remainder of the Rest bowlers struggled for wickets in Bangalore in early February. In the process, he touched 300 first class wickets.
Pankaj has also had his taste of IPL, first playing for Rajasthan Royals (2008, 2011 and 2012) and Royal Challengers Bangalore (2009), picking up 11 sticks in 17 IPL matches.
He may give one more try on Saturday when Rajasthan take on Delhi in a last attempt at the final berth. All but out of the race, Rajasthan need to win by a huge margin and pray that Kerala beat Baroda and hope the Net Run Rate works in their favour.
Meanwhile, in the Rajkot leg, four teams – Uttar Pradesh, Gujarat, Goa and Haryana have two wins each in their three matches and tied on eight points apiece with the four going all out on Saturday for the place in the title round.
Playing on Saturday:
In Mumbai: Delhi vs Rajasthan at MCA-BKC; Kerala vs Baroda at Wankhede (both 9.30am)
In Rajkot: Haryana vs UP (9.30am); Goa vs Gujarat (1.30pm)