Sushil, Amit and Vinesh win yellow metal to make it near perfect night in wrestling for India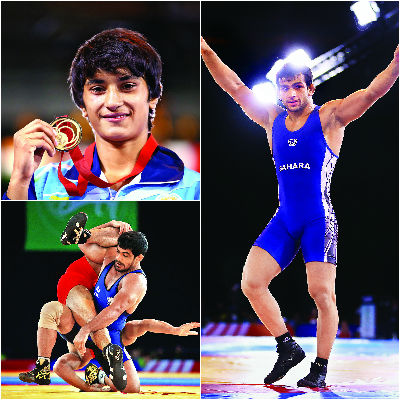 The wrestlers took over from the shooters as they brought home a rich haul of three gold from as many finals with one more to come late in the night at the Scottish Exhibition Conference Centre on Tuesday evening.
Sushil Kumar, the two-time Olympic medallist, moving up a category from 66kg to 74kg was in excellent form as he capped a great run with a victory by fall over Pakistan's Qamar Abbas to bring in the third gold of the session.
"My move to 74 kg has been successful and I am thankful that our campaign on first day has been so good," said Sushil, who also won the Commonwealth gold in 66 kg four years ago. He also won the 2010 World title in the same category and a bronze in 2008 Olympics and silver in 2012. Now he is getting ready for 2016 in 74kg.
Earlier in the evening, 21-year-old Amit Kumar triumphed in the men's 57 kg category and the 19-year Vinesh won in the women's 48 kg category.
That made it three out of three with Rajeev Tomar scheduled to meet Koris Jarvis of Canada later.
Amit Kumar, Asian champion last year, and a great prospect for the future, set the tone for the Indian contingent with a 6-2 win over Welson. Amit ran up a 4-2 lead in first period and consolidated that further in second to complete the 6-2 victory, the first gold medal for India in wrestling.
That was followed by a gold from 19-year-old Vinesh in women's 48 kg. She beat local favourite England's Yana Rattigan 3-1 in the final. She trailed initially, but caught up and then went ahead for India's second gold of the day.
In the very first round, the round of 16, two-time Olympic medallist Sushil was up against Australia's Jayden Lawrence, who before the draw was expected to be his toughest rival in the 74kg category. But Sushil beat his opponent convincingly by 11-0 and Lawrence said, "I was unlucky in the draw. Out of all the fighters, he was the toughest. This should have been the final."
Sushil followed that up with a win over Sri Lankan Kushan Sandrage in 66 just seconds to reach semifinals with a 10-0 score in technical points. In the semis, Sushil went through to the final as he beat Nigeria's Melvin Bibo 8-4 to reach Men's 74kg Final.
In the morning, Amit reached the final beating Pakistan's Azhar Hussain in just 83 seconds with a flurry of takedowns and holds to win the match on 'great superiority' in what was the first of the two Indo-Pak clashes. Later Sushil beat Qamar Abbas in 74 kg final.
Earlier, Amit Kumar opened the day against Mauritian Jean Bandoo in Round of 16, as he pinned his opponent in just 48 seconds for an recorded an impressive 5-0 win on technical points. He followed that up with another win over South Africa's Bokang Mansuyane to make the quarter-finals.
With only seven wrestlers in her section, Vinesh began with her campaign against Nigerian Rosemary Nweke and she won 12-4 on technical superiority. In the semis, she outclassed Canadian Jasmine Mian 12-1 within 23 seconds of the start of second period after running a 10-1 lead in first period.
Rajeev Tomar beats Kiwi Marcus Carney to reach Men`s Freestyle 125 kg final. Rajeev Tomar, who has a bye in the first round, had a brilliant start with a win over gold medal winner of the 2010 Commonwealth Games, Sinive Boltic from Nigeria. That gave him, a passage into the semi-finals. Tomar was down 0-2 down and came from behind to win 12-2.
In the semis, he upstaged Kiwi Marcus Carney 13-1 in another fine showing, which ended ahead of time in second period. That put him into the gold medal match against Korey Jarvis of Canada.