Bopanna-Qureshi hit form to reach Sydney International final days before Australian Open, India's World No. 13 says the duo knows what it takes to win a Slam.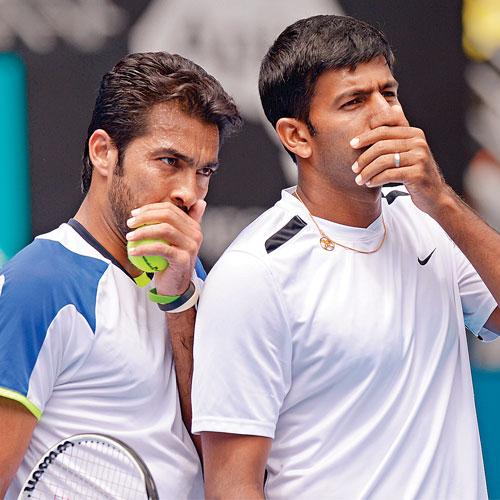 In sport, things can turn around quickly. Rohan Bopanna and Aisam-ul-Haq Qureshi will vouch for that.
Days after crashing out in the first round of the Chennai Open, the Indo-Pak doubles pair — who have renewed their partnership — stormed into the Sydney International doubles final, brushing aside Lukas Rosol and Joao Sousa 6-1 6-2 in the semis.
The Chennai Open exit was the duo's first match after joining forces again, and have since recorded three straight victories in Sydney going into the Australian Open starting next week. Peaking at the right time, aren't they?
"Yes, we seem to have come back to winning ways in our second tournament back together and making a final is special. So far so good!" Bopanna told dna from Sydney. "There's nothing like going to a Grand Slam playing confidently. Hopefully we can carry on this momentum next couple of weeks as well," he added.
The Indo-Pak Express, as they are fondly called, decided to reunite for the 2014 season after splitting in 2011, when Bopanna wanted to partner compatriot Mahesh Bhupathi to train for the 2012 London Olympics. After switching about eight doubles players since, Bops is back with his most successful partner.
"We have shared our success together in the past, but for us it's like a fresh start. The main thing right now is for us to believe in each other as a team and I think if we do that we can keep the success up for sure," Bopanna, ranked world No. 13, said.
Success they did enjoy, for the duo had a brilliant run together since their journey began in 2007.
They reached the final of the 2010 US Open, won the ATP World Tour Master's 1000 title in Paris in 2011, thereby qualifying for the ATP World Tour Final in London. That saw them break into the top-10 rankings, but they then parted ways.
Bopanna wants to go a step further now, and is hungry for a Grand Slam win after coming close at Flushing Meadows.
"A Grand Slam is a very realistic goal, especially since we have reached the final before and also made the semifinals with different partners. I strongly feel we know what it takes, it's just a matter of believing in ourselves," he said.
The 33-year-old feels the reason for their success is, quite simply, communication.
"I think communication plays a huge role in building a successful team and in understanding each other's strengths and weaknesses. We also believe that it is necessary to communicate post each game, whether it is a win or a loss. Discussing the game with each other after is essential, so that we may proceed with a complete understanding of what went wrong," he said, adding that his big serve and big ground stokes compliments Aisam style of volley very well.
So is he optimistic of a good show in the Australian Open?
"I won't call it optimism," Bopanna said. "But I would say that we are positive and confident going into the first Grand Slam of the year."