Kings XI captain says dashing opener's rich experience will help team this season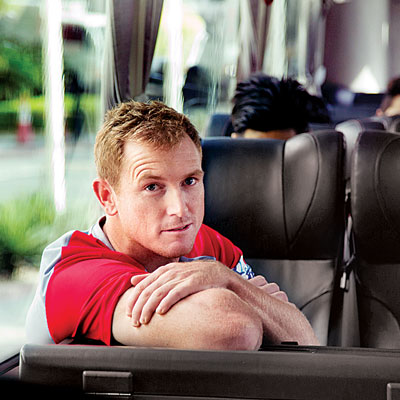 In Australia, his batting led to seismic consequences in the domestic circuit. But in India, the Tasmanian was ignored. But George Bailey, who was mostly a bench-warmer in the Chennai Super Kings (CSK) dug-out during the 2009 and 2010 editions, is back in the IPL with a new designation – captain of Kings XI Punjab. He believed the presence of Virender Sehwag, "a legend in his own right", will make his job easier as a captain.
Sehwag was the first choice as KXIP captain but he let it go to concentrate on his own performance.
"Him trying to concentrate on his playing is definitely a benefit but he is going to be a leader in the team anyway with his experience and talent. I'm sure he will pass that to the youngsters and motivate them," said Bailey. "I am equally excited to play with Virender as much as everybody. I also love the attitude of the people in Punjab, it will be great to get back here for the second-leg."
Bailey has been a fan of Mahendra Singh Dhoni. He dismissed the fact that the India and CSK captain is under pressure to perform. "I learnt a lot from MS. More than the practical things, his demeanour amazes me. Another good thing about him is that he sticks to his plans and strategies no matter the team wins or loses. I don't think he has anything to prove anymore," Bailey said.
Amongst the Indians in the Kings XI squad, Bailey felt Cheteshwar Pujara would have a good tournament.
Bailey was in the limelight after his bat did the talking in Australia's ODI series against India last year. He was also the captain in the absence of regular skipper Michael Clarke. Though Australia lost the series 2-3, Bailey became the first Australian skipper to amass more than 300 runs (478) in any bilateral ODI series. He is deriving confidence out of his sub-continent experience.
"It is going to help because the more you play under the same conditions, the more you get used to it and more confident you get. The series in India will be a factor," the Australian T20 captain added.
Bailey might have also hit the franchises' eye this season as he was the top-scorer for Hobart Hurricanes in the Big Bash League (BBL) final that finished a week before the IPL auctions.
The IPL format has been a fertile ground for BBL players. But Bailey was of the opinion that IPL's a little different from the Australian league. "IPL is a much longer tournament, there is a change of momentum and there are ups and downs. Maintaining consistency is the key to success in this tournament. More so this year because it is going to start in UAE and end in India," he said.
His Aussie mates Glen Maxwell and Mitchell Johnson are part of the KXIP set up this year. "Their presence will be important throughout the tournament but no team can rely on one or two players. Everyone needs to contribute. But those two guys being international cricketers, one would expect them to step up and be the wild force."