Gareth Bale to Real Madrid has garnered a lot of buzz both in the mainstream as well as social media as fans around the world watched the most talked about and costly transfer materialise.
On Saturday, the Welsh player will get his first game for his new club. Brought at a world record price of $134 million from Tottenham Hotspur, Bale is expected to prove with his game that he is worth every penny spent on him.
The match against Villarreal is an opportunity for the 24-year-old winger to help his team as they chase their 10th European Cup this season.
With many observers pointing out the Bale will have to measure his talents and skills against against Real's star player Cristiano Ronaldo. The duo playing together will have all eyes on them to see the fireworks, will it be a beautiful demonstration that lights up the teams prospects or ends up burning chances is to be seen.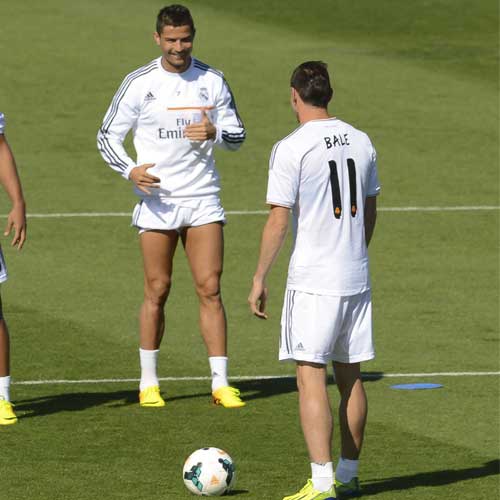 Bale is expected to play on the right wing though he is left-footed as the team is unexpected to stop Ronaldo who likes the left from playing in his favourite spot. Manager Carlo Ancelotti will be looking for a way to get his best players to form a dominant and destructive combination but at the same time play complimenting each other.
For sometime now the big signings of the Spanish giants after the media buzz created around them have either risen or fallen under the pressure of the hype.
With Gareth Bale emerging as Real Madrid's newest Galactico, fans are wondering if his will be a hit or miss on debut tale.
Zinedine Zidane was France's star player but on his debut for Real Madrid, the football ace made a slow start though his brilliance picked up as his career at the Spanish team advanced.
Brazilian ace striker Ronaldo scored twice on his Real Madrid debut in a 5-2 win over Alaves and was given an awesome standing ovation as he delivered in the midst of the hype around him.
Cristiano Ronaldo made his Real Madrid debut in the same match as Brazil's star player Kaka. The match saw Real seal a 3-2 win over Deportivo as Ronaldo scored in the first half and Kaka looked dangerous though he didn't score.
Jonathan Woodgate had the worst debut ever. He scored an own goal and was sent off in his first game against Athletic Bilbao.
Will Gareth Bale have a debut that has the fans going gaga or bashing him will be known soon. The Welsh star surely must be nervous knowing that he has a huge weight of expectations on his shoulders.
If he lives up to the hype or he fails, one thing is sure Gareth Bale will make the Sunday football news - hero or zero will be determined by his play against Villareal.