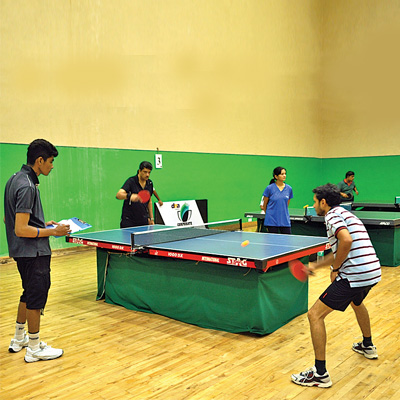 Gandhali of Deloitte bagged a double, winning the badminton women's singles and doubles titles in the Champions Cup category of the Corporate Indoor Games 2014 recently.
Gandhali partnered Sonal for the doubles gold in the second weekend of the corporate tournament that saw more than 700 participating over five disciplines – Badminton, Table Tennis, Carrom, Pool and Bowling – across 3 age categories at Goregaon SC and Smaaash.
The final rounds of bowling, TT, Pool and Carrom were held on June 29 while Chess, Squash and Badminton will conclude on July 6 of the event, a SportzConsult initiative that was launched in 2003. dna is the presenting sponsor of this event and is co-sponsored by Smaaash while Rave Technologies and Kaspersky Lab are the associate sponsors. Mickey Mehta 360° Wellness Temple is the fitness partner and Cricket Today & Sports Plus is the magazine partner.
Results (gold, silver, bronze):
POOL: Champions Cup: MS: R Hamlai, Z Ahmed (Kotak), Ritesh (all Kotak)
MD: U Saigaonkar/ D Kumar (TCS), S Kapoor/ S Sawant (Kotak), J Saha/ S Shaikh (Reliance General Insurance)
Challenger Cup: MS: S Shaikh (Reliance General Insurance), Kushal (Rave Tech), D Kumar (TCS)
MD: R Hamlai/ R Shah, P Singh/ N Sawant (both Kokak), Pushkar G & Anish N (Cogencis)
BOWLING
Champion Cup: MS: K Cheranda (Tuner International), A Dhoot (Wadhawan Group), P Dhandwani (Aditya Birla Finance Ltd)
WS: S Santhanam (Kotak), S Fernandes (Wadhawan Group), S Shaikh (Kotak)
Challenger Cup: MS: P Saraiya, M Gohel (both Kotak), V Aggarwal (Reliance General Insurance)
WS: A Fernandes, S Nambiyar (both Kotak), V Sankhe (Wadhawan Group)
BADMINTON
Champions Cup: WS: Gandhali, Sonal (both Deloitte), Shakuntala (WHPL)
WD: Gandhali/ Sonal (Deloitte), Sampada/ Anagha (Cognizant), Shakuntala/ Aarti
XD: Abhishek T/ Kavita D (Cogensis), Sujit/ Avni (L&T Insurance), Vivek/ Sampada (Cognizant)
Challengers Cup: WS: Kavita D (Cogensis), Radhika (TCS)
XD: Bakul/ Radhika (TCS), Asit/ Sonal (Deloitte), Saumen/ Shakuntala (WHPL)
WD: Garima/ Ankita, Adhirai/ Pranali (both JP Morgan), Arundhati/ Mayuri (Petrofac)
CARROM
Champions Cup
WS: Minal B (Kotak), Manisha G (Petrofac), Aruna N (Bajaj Electricals)
WD: Manisha/ Samreen (JPMC), S Sahu/ B Das (TCS), Minal/ Shilpa (Kotak)
MD: D Ganika/ Mahesh Rane (TCS), V Korgaonkar/ T Sudhakar, Vasant/ Chandrakant (both Kotak)
XD: Vaibhav/ Minal (Kotak), Deepak C/ S Sahu, Vijay/ B Das (both TCS)
Challengers Cup: WS: Hemali, Vandana (both Reliance General Insurance)
WD: Abhilasha/ Monika (Rave Technologies), Priya/ Rita (JPMC), Saraswati/ S Kaur (Kotak)
MD: Samir/ Ankit (TCS), Rajesh/ Ganesh (Wadhawan Group), A Kolte/ S Chalke (Wartsila)
XD: Tushar N/ M Gharat (Petrofac), Amarjit/ Meeta (JPMC), Sunil R/ Vaishali (Wadhawan Group)
TABLE TENNIS
Champions Cup: 40+ MS: S Shroff (Godrej & Boyce). Premal (Kotak), Yatish Thakur (Petrofac)
40+ MD: Premal S/ CS Rao (Kotak), Yatish T/ Ashwin A (Petrofac), Chandru B/ Raymo P (MSCI)
MS: S Chandrasekhar (HDFC Bank), S Shroff (Godrej & Boyce), R Bhattacharyya (Kotak)
MD: C Dere/ A Singh (JPMC), H Ojha/ C Jain (Deloitte), V Yadav/ R More (TCS)
WS: S Joshi (Deloitte), K Anand (Deloitte), A Jaisingh (JPMC)
WD: S Joshi/ Kuhu Anand (Deloitte), A Jaisingh/ Vani Masand (JPMC), S Devnani/ Arti (Wadhawan)
XD: K Anand/ C Jain, S Joshi/ H Ojha (both Deloitte), V Yadav/ S Mahadik (TCS)
Challengers Cup:
40+ MS: Vinay N (Reliance Capital), Rajashekar Vyasa (Fermenta Biotech Limited), Yatish Thakur (Petrofac)
MS: C Jain (Deloitte), A Vadsaria (MSCI), CS Rao (Kotak)
MD: Tausif/ Gaurav (Directi), A Batra/ Jeevakraj (Rave Technologies), P Singh/ K Gandhi (Kotak)
WS: T Shah (JPMC), S Shetty (Cogencis), V Masand (JPMC)
WD: Nam Saxena/ Brenda (Deloitte), S Garud/ M Khandare (Rave Technologies), R Bhoj/ S Bajpai (JPMC)
XD: A Singh/ V Masand (JPMC), S Divate/ P Gangwar (CGI), T Lakdawala/ T Shah (JPMC)