Indian golfers bank on experience of playing on European Tour when they take on Spanish-Scot team of Fernandez-Castano/Gallacher on Day One of EurAsia Cup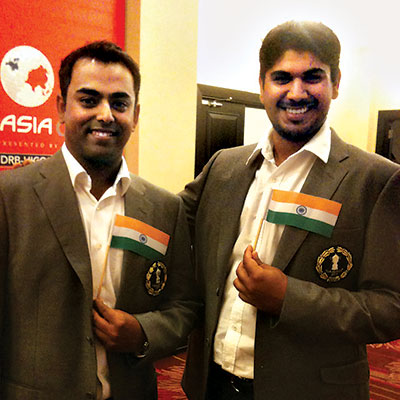 Gaganjeet Bhullar and Anirban Lahiri got the pairing they wanted. But it came after some deliberation from captain Thongchai Jaidee on the eve of the historic inaugural EurAsia Cup presented by DRB-HICOM.
The path-breaking event, which will be the biggest match-play event for Asian pros, tees off at the Glemarie Golf and Country Club, which saw showers after a long dry spell.
The Indians, one of the five pairings made up of players from the same country, will play against Gonzalo Fernandez-Castano, a seven-time winner in Europe, and Scotsman Stephen Gallacher, who has won three European titles.
"I won't be surprised if there are some upsets," warned Bhullar with a big grin. His first reaction on the pairing was: "It was not really a give-in as we played two practice rounds and the team weighed in various options. Then captain TJ (Thongchai Jaidee) decided we would go out together."
Lahiri, looking dapper in his Team Asia blazer and carrying a small India flag, added: "We are super-excited and kicked. It is nice to be playing together and our focus is to get a point for Asia on the first day itself. You play for your country and then for Asia and it is the biggest you can do as a pro. It is one-of-a-kind event and it is a fantastic experience to have the Indian flag flying here."
The players have been playing together and discussing the strengths and weaknesses, they may have observed while playing on the pro tours. And to chill out, there has been table tennis, billiards and a lot of ribbing.
Lahiri added: "We really have got a good mix. Obviously, the Europeans have a great record in this format and we might be inexperienced in that aspect. But Gagan and I have had a good run and Thongchai and Kiradech have a great run, too."
Bhullar exuded confidence as he said: "I have played with them on European Tour. Both of them (Fernandez-Castano and Gallacher) have won a few times on the European tour, but we are hungry and aggressive and want to do well for our country and the continent. So I won't be surprised if you see upsets."
As for the atmosphere and the different languages in the Asian dressing room, Bhullar said: "We have Hindi, Thai, Japanese, Korean, Bangla and Malay. So, it's quite cool to have so many languages in the same room. We play each week under different nationalities and against each other, but here we are one team and we are jelling well and comfortable with each other."
The rain that came down while the draw was being announced was a good omen, said the locals who have seen a lot of dry spells this year. The course managers were busy ensuring perfect conditions.
Jimenez, who plays with fellow Spaniard Pablo Larrazabal in the opening fourball, said: "With the rain, the golf course is going to be a little bit softer. The greens are quite hard and it's going to be good to have it a bit softer. It's nice."
Jaidee also welcomed the rain, saying: "The conditions will suit us."
Pairings for Day One:
Match 1: Thongchai J/ K Aphibarnrat (both THA) vs MA Jimenez/ P Larrazabal (ESP)
Match 2: K Oda/ H Tanihara (JPN) vs T Bjorn/ T Olesen (DEN)
Match 3: P Marksaeng (THA)/ S Rahman (BAN) vs Dubuisson (FRA)/ J Luiten (NED)
Match 4: G Bhullar/ A Lahiri (both IND) vs G Fernandez-Castano (ESP)/ S Gallacher (SCO)
Match 5: N Fung (MAS)/ Kim Hyung-sung (KOR) vs G McDowell (N Ire) & J Donaldson (Wales)