single mother sold flower garlands to bring up new national junior chess champ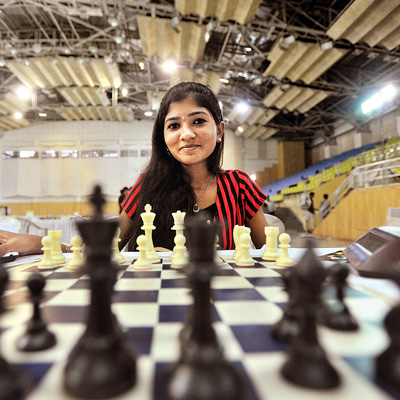 As she held the trophy of the junior national chess champion close to her heart, 18-year-old J Saranya remembered the flower garlands that her mother sold on the pavements of Chennai. Saranya clinched the prestigious national title on Friday at the boxing hall of Pune's Balewadi sports stadium where the junior national chess championship was held.
Saranya's national junior titile will pitch her into the top ranks of chess players in India and will open up a world of possibilities. she dedicated her win to her hardworking mother J Thangarani saying, "This title is for my amma."
Recalling her early years growing up in Chennai, Saranya said her mother turned thorns into roses to give her a life. Her mother, thangarani sold, flower garlands, mud and plastic toys in the streets of Thiruvottiyur in north Chennai, for a living. Saranya's father who was an autorickshaw driver had deserted her mother and two daughters.
"I am proud of her. Though she is uneducated, she is the one who made us sisters what we are today,"said Saranya.
Ask her about her early life and how she picked up chess, she calls herself as a 'spectator turned champion'. "My elder sister and I used to study tuition near a chess academy, it's called the Bloom Chess Academy. After our tution classes, I would watch other kids train there and that's where I kickstarted my journey with chess," she recalled.
It was here that MA Velayudhan, the coach at the Bloom Academy who first noticed the two sisters, called them in to have a go at the game. They were quicklearners and later Thaigarajan, one of the well-known coaches in Chennai picked them up for training from the academy.
And since then, Saranya has won the Under- 13, 17 and now 19 nationals . it has been beds of roses for the champion who even has the Asian Youth Gold medal under her belt in 2009.
For Saranya who is a second year B Tech (IT) student from St Joseph's College in Chennai where she is studying on a scholarship owing to her brilliant academic and sporting history, winning titles has become her habit. This is her fourth national title.
" I have a long way to go, these are just beginner's steps to a journey of success that I wish to mark. Every move I make I am conscious of what sacrifices my mother made for us fighting a lonely battle and I wish that my achievements act as balm to her pain," said the national champion.