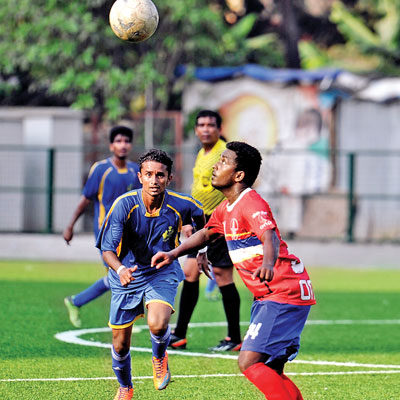 Francisco Salin's status on WhatsApp until recently read: "You've got to follow your passion. You've got to figure out what it is you love, who you really are, and have the courage to do that'. His passion is football and his dream is to play for the national team.
The 24-year-old holds the key to Mumbai Customs' success in the MDFA Elite Division. His skills and assists were instrumental in his team winning the group stage to enter the Super Six play-offs, their first match against defending champions ONGC ending in a goalless draw at the Cooperage Stadium on Monday.
The 24-year-old's status on the popular social media is not changed to, "A champion is someone who gets up, even when he can't."
There's a story behind his motivational status messages. Ten months ago, while representing the Maharashtra senior team in the quarterfinals of the Santosh Trophy against Goa in Kerala, Salin broke his right shin bone, courtesy a double-footed lunge by the opposition goalie. "It didn't crack with the tackle, but when I stood up, it cracked with the pressure of my body weight," he said.
"I was in the best form of my life when I suffered the injury. I remember seeing a national team scout before the game, and I just wanted to do what I was good at," he said.
Salin even remembered current CEO of Western India Football Association (WIFA), Henry Menezes, telling everyone that he would take Steven Dias' place in the national team. "That was my dream too as Dias is my favourite player," he said.
It was a struggle to return to the football field. "I had to keep motivating myself every day. I used to cycle, go to gym and swim daily. There were times when I'd just give up and people would say that my career was finished, but thankfully my family, friends and the team supported me and that really gave me a lot of confidence. The fact that they believed in me when I didn't believe in myself, gave me the push to work harder," he said.
His first match after the injury was on January 26 this year. "My team won on Republic Day and I couldn't control my tears. That tournament made me realise that I still have it in me to perform at this level," he said.
With every game that he plays, his desire to play for the country only gets stronger.