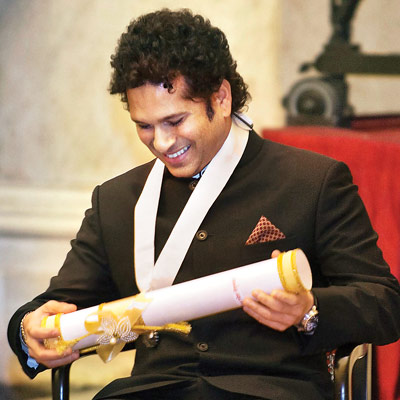 The moment finally arrived. Sachin Tendulkar was conferred the Bharat Ratna -- the country's highest civilian honour – along with Prof CNR Rao by President Pranab Mukherjee here on Tuesday.
The cricketing legend, who retired in November last year, was accompanied by wife Anjali and daughter Sara. He is the first sportsman to be bestowed with the honour.
In his usual humble style, Tendulkar said he will continue to bat for India and give the country a reason to smile.
"I am happy with the love and affection that I have got over the years. Fortunate to be born in this country. I know my cricket is over but I will continue to bat for India and will give the country a reason to smile," Tendulkar said.
Like he had done in his first post-retirement press conference, Tendulkar mentioned his mother again, dedicating the award to his mother and all mothers of the country.
"This is the biggest honour. Extremely delighted at getting this award. I want to reiterate again that I want to dedicate this award to my mother and all other mothers of India, who sacrificed their aspirations so that their children's dreams come true," he said.
Tendulkar and Rao joined a list of 41 personalities who have been conferred with the Bharat Ratna, which is given in recognition of exceptional service of the highest order since it was instituted in 1954.
Tendulkar also congratulated Prof Rao for inspiring the country's youth to become scientists.
"I would like to congratulate Prof CNR Rao for the Bharat Ratna. He has been instrumental in motivating and inspiring youth of India to become scientists. I wish him all the happiness and good health."