Former captains, Dilip Vengsarkar of India and Michael Vaughan of England say that a way to wrest the debacles outside the subcontinent is to allow Indian players to ply their wares in English counties and get better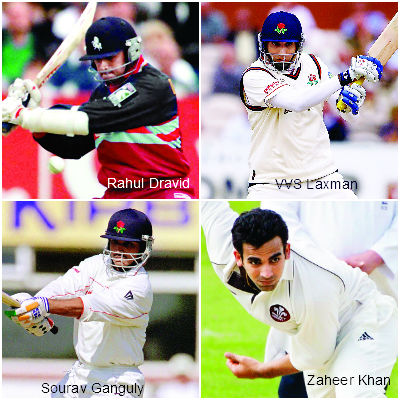 Following India's disastrous performance in the five-Test series in England, suggestions have poured in on what the Indian cricket board needs to do to save the traditional form of the game, especially outside the sub-continent.
The board's cash cow Indian Premier League has once again come under severe criticism from former cricketers and pundits who are nitpicking the cons of it. And, how it is stealing the opportunity from a youngster to learn the game more while playing away even though the IPL is giving him the riches.
One of the stalwarts of English cricket, Michael Vaughan wrote in his column in the Daily Telegraph that the only way the young Indian players will learn and improve is if they are exposed to the outside world like playing county cricket in English conditions and not confined to the riches of the IPL.
"A quick word on India. The Board Of Control for Cricket in India has some tough calls to make. My main recommendation is to get their players to play county cricket.
"Young Indian players need exposing to a wider world outside the pampering and riches of the Indian Premier League. They need to learn how to bat and bowl in our conditions.
All the greats of the past 30 years had spells in county cricket. It would do their development a great deal of good to come here," he wrote.
In the 1960s, 70s and the 80s, legends like Sunil Gavaskar, Kapil Dev, Bishan Bedi, Farokh Engineer, Mohinder Amarnath and Dilip Vengsarkar were regulars in the county circuit, ironing out their cricketing skills during the off-season.
Post 2000, the number went down although due to a busy schedule, but many like the Mohammad Azharuddins, Sachin Tendulkars, Rahul Dravids, Sourav Gangulys, Virender Sehwags, Anil Kumbles and the Javagal Srinaths made themselves available to their various counties whenever they got an opportunity.
Ask Zaheer Khan, once struggling to make a comeback and he cannot thank Worcestershire enough for giving him a chance in 2006. There, he emerged stronger by taking 78 wickets in 16 games and subsequently became India's best bowler on their victorious tour of England in 2007.
Like Zaheer, others cricketers like S Sreesanth (2009 for Warwickshire), Harbhajan Singh (2012 for Essex) and Gautam Gambhir (2013 for Essex) have used the county tool to return to form.
However, post IPL, the number has only gone down with only a few of them showing interest on top of that BCCI's rigidity against sending their players.
Former India captain and chief selector Vengsarkar played for Straffordshire besides the Bolton, Bradford and Yorkshire Leagues. "Playing in England helps you a lot. Even if it's league and not first-class cricket. The experience, exposure and being professional they expect a lot from you. You are watched in every match and you have to be consistent," said the veteran cricketer who has played116 Tests and amassed 6,868 runs.
"It not only makes you technically tighter but also makes you mentally tougher. The opponents are professionals, too, and he would always look to getting you out or score against you, hence you have to be tough and consistent," he added.
The 58-year-old feels even though the conditions in England may not be similar to other countries, a player can benefit. "Conditions in South Africa, New Zealand, Australia and England are different. But County cricket can make you technically tighter and basically get you into the habbit of scoring runs consistently which is expected by the club," opined Vengsarkar.
Vengsarkar has suggestions for youngsters on how to go about it. "You can play in the second half once the IPL is over. It is very important for our bowlers and batsman. If you don't get to play for the major teams, then go and play for club teams in various leagues. The idea is to get maximum exposure and get used to the conditions.
"The idea is not only to get exposure on cricket field but to make you more responsible. The life may be a bit tough for new comers have you have to do things on your own, drive your car, cook food and other stuff. But then it will make your more responsible which will help your game," he added.
The BCCI, in recent times, has started sending 'A' teams for regular tours. Vengsarkar felt that was not the only solution. "A team is different. In county cricket you work as a pro.
The difference is huge. Here you are going as India 'A', but there the owners want you to perform. The pressure will be more on you in overseas and you have to deliver," he added.