Guwahati-based businessman had buried bottle of whiskey after Diemannschaft's loss in USA pledging to open it when they emerge champs again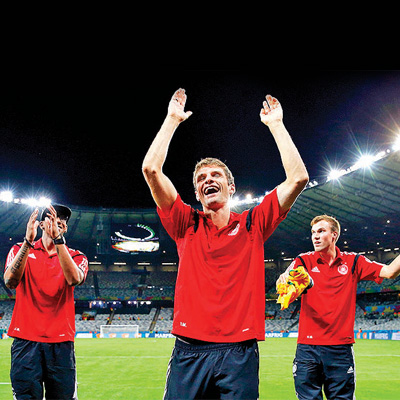 If Germany win the World Cup final against Argentina early on Monday, 53-year-old businessman Putul Borah will celebrate it in the right spirit...err...rather with the right spirit. And will unleash a party waiting to be unearthed, literally, for the past 20 years.
Borah is planning a grand celebration with a bottle of Scotch whiskey he had buried in his courtyard 20 years ago after Germans were sent packing by Bulgaria in quarterfinal of 1994 World Cup in USA.
"I had brought a bottle of Passport Scotch from Kolkata (Calcutta back then) hoping to celebrate
Germany's victory in the 1994 World Cup. But when they lost to Bulgaria, with a heavy heart and sorrowfully, I buried the whiskey bottle in my courtyard.
"I had pledged that I will dig out the bottle only the day Germany emerge champions again," Borah said.
Borah is optimistic about Germany's fourth title given its credible performance so far in the ongoing tournament.
"With the kind of football Germany is dishing out, I'm sure I will be digging the bottle out this time and celebrate with my friends," he said.
However, he added: "Some of my friends are advising me to auction the bottle of whiskey saying it will fetch me big money considering that it has lied buried for so long." Borah said he had spent Rs 630 for the whiskey in 1994.
Borah said he watches the matches with his wife and friends in a room, which has been decorated with cartoons and festoons conforming to the theme of World Cup.
Borah even got a pavilion, named "Brazil 14" built in his house to accommodate specially invited guests. Borah has been following German football ever since the advent of television in Assam in mid 1980's. Among the former greats, he admires Lothar Mathews, Jurgen Klinsmann, Rudy Voeller, Oliver Kahn and Michael Ballack.
"I like their power football. (Mesut) Ozil will make a difference in the final. (Thomas) Mueller is another player to watch out for. Mark my words," Borah added.