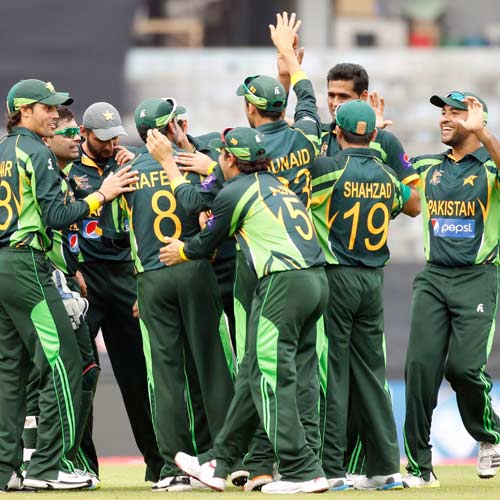 With Ireland having decided against going to Pakistan to play international cricket, chances of revival of international cricket have further receded. Is Pakistan political establishment to blame for the loss of face for the cricket crazy country? The hopes of Pakistan's cricket spectators have been dashed yet again with Ireland scrapping its tour to the country which was scheduled for the first week of September due to the recent militant attacks on Karachi airport.
Since March 2009, no international cricketing event has been held in the country when militants attacked the Sri Lankan team bus in Lahore near the Gaddafi Stadium in which six security people and a bus driver were killed. After that attack, New Zealand cricket (NZC) had also dropped its tour to Pakistan in December 2009.
Fans fear that for now Pakistan may become a 'no-go' location for international cricket and the country's cricket stadiums may not see any action in the near future. The decision taken by Ireland has also given a backward push to the upcoming T20 tournament scheduled later this month with hopes of reviving international cricket in Pakistan.
After the militant attacks in Karachi, New Zealand all-rounder Jacob Oram and South African batsman and cricket icon Herschelle Gibbs pulled out their names citing security concerns. In a major blow, Pakistan has failed to convince international test playing nations to play there in the past few years. Not long ago, a Bangladesh court had issued an order to call off a tour to Pakistan in 2012 for fear of attacks on its players.
Earlier, in 2008, Cricket Australia had scrapped its trip due to safety issues in the country. In 2002, Australia played three test match series with Pakistan on a neutral venue. New Zealand had also cancelled its ongoing Pakistan tour in 2002 following a bomb blast outside the hotel team in Karachi. Even Australia has not toured Pakistan since 1998 due to security concerns.
The management of Pakistan Cricket Board (PCB) has also been in the doldrums since the past few years. PCB was headed by 25 people between 1948 and 2008, but in the last six years the Board has already witnessed five changes to the posts of president and chairman. Pakistan cricket has also been plagued with many tragedies. Even while the 2007 ICC World Cup was on, the cricket team's coach Bob Woolmer was found dead in his hotel room in West Indies after Pakistan lost to Ireland.
In order to keep the sport alive, the venue for holding matches was shifted to the UAE with cricket boards of test playing countries sending their team there to play against Pakistan. In the last few years, Pakistan had played against Australia, West Indies, Sri Lanka in the UAE. The winner of the 1992 ICC World Cup and 2009 T20 World Cup is struggling to maintain its legacy. Pakistan was not allowed to host the 2011 Cricket World Cup even though other Asian nations were allowed to host it.
Pakistani cricket fans are still keeping their hopes alive that the security situation will improve soon and they will witness legends of the cricketing world to step foot on their soil and give them a thrilling experience. The new found friendship between Prime Minister Narendra Modi and his Pakistani counterpart Nawaz Sharief might pave the way for resumption of cricketing ties between the two nations, preferably with Pakistan playing host. Of course, peace has to endure to allow cricket diplomacy to prevail.