Group D sees England with Uruguay, Italy and Costa Rica while in Group G it is Germany, Portugal, USA and Ghana.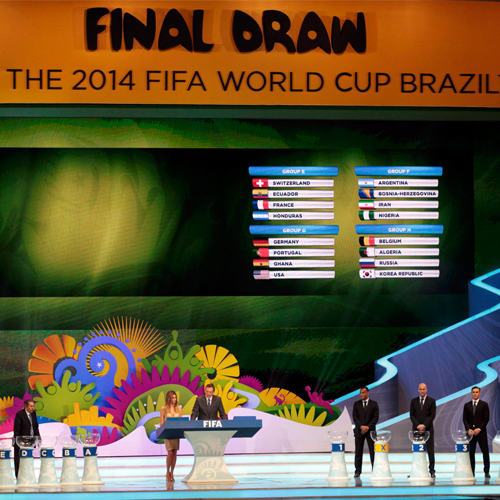 On Friday there was high voltage excitement as the 32 teams for the 2014 Football World Cup in Brazil were drawn into their eight groups.
With Brazil in Group A were joined by Croatia, Mexico and Cameroon as it emerged that Brazil vs Croatia would kick off the World Cup next year.
World Cup holders Spain in Group B were joined by Netherlands, Chile and Australia while in Group C Colombia, Greece, Cote d'Ivoire and Japan were drawn together.
It was Group D that emerged as the 'Group of death' with Uruguay, Costa Rica, England and Italy all falling into it. It was FA chairman Greg Dyke whose outrageous cut-throat gesture as he heard the draw when England was thrown in the mix that was highlighted by the world media as all eyes and the big screen fell on him.
Watch Greg Dyke's reaction:

Dyke's body language was also what man fans felt as they heard the Group of death as Twitter was flooded with tweets making Roy Hodgson's team the butt of all jokes.
Here are some Twitter reactions to the Group D draw:

Group D for Fifa world cup next year..Italy,England,Uruguay,Costa Rica..What the heck@@

— Aaron Azzurri † (@LlorisBuffon) December 7, 2013
Suarez vs England... What a draw, what were the chances lmao.

— Empix (@empixxx) December 7, 2013
#Suarez on hearing the #England World Cup Draw pic.twitter.com/CQ847JuYhz

— Leesa MaC (@Lisa_Marie74) December 6, 2013
Group E saw Switzerland, Ecuador, France and Honduras drawn together. While in Group F it was Argentina, Bosnia-Herzegovina, Iran and Nigeria grouped together.
Generally, there is only one 'group of death' but next year's fight for the beautiful game's most coveted trophy grew more interesting with Group G seeing Germany, Portugal, Ghana and USA drawn together. All four strong teams make this the second explosive group besides Group D.
Belgium, Algeria, Russia and South Korea made the final Group H. The draw ended up throwing spicy groups and some dull groups with Argentina, Brazil and France ending up with easy draws.
The football World Cup with the draws now known just got a little more exciting and Twitter was also buzzing with excitement as eager fans looked forward to 2014.
Here are some reactions:

The world cup draw is such a tease, can't wait for the main event this summer

— Justin Giedroc (@jgiedroc) December 7, 2013
#WorldCupDraw how exciting!

— James gurule (@pookalicious00) December 7, 2013
World Cup draw needs to be weighted more. total crapshoot. Mexico rewarded for 18 months of crap. US shines and gets group of mass murder

— Jason La Canfora (@JasonLaCanfora) December 6, 2013
Brazil who are hosts and the team that has won the title the most number of times will be savouring their chances after a favourable draw as they seek to re-claim the cup in front of the home fans.