Whenever Rhema Sports' captain Lakshman Rao takes field, his wife former India goalie Helen Mary follows his moves from the stands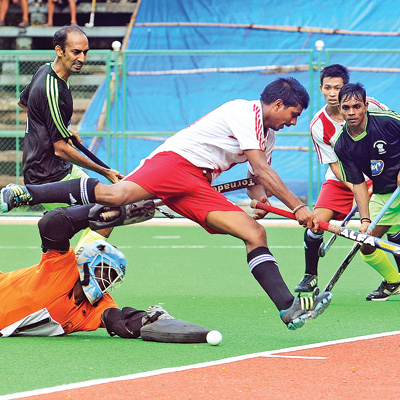 It was the role of the Indian Navy midfield to keep a close eye on Lakshman Rao, midfielder and captain of Rhema Sports, during their Hockey Super League tie at MHAL, Churchgate on Tuesday. However, there was a lady sitting in the stands who also followed his every move.
The lady, apart from being an avid hockey fan, happens to be former India goalkeeper Helen Mary, who represented the country during the 1990s and 2000s. And she was interested in Rao's moves on the field because she is his wife.
The duo were childhood friends in Bangalore and it was their love for the game that brought them together.
"I started playing hockey at a young age and by the time I was 15, I was playing for India. I have played with boys and that's how I met Lakshman," says Mary.
Rao says, "No one knows my game better than her. She is my biggest critic, she tells me where I went right and the mistakes I made during the match."
He might have a lot of criticism coming his way as his team went down 1-3 to Indian Navy on Tuesday.
Mary spent much time during her days as a player participating in tournaments around the world and now makes it a point to watch her husband play as much as she can.
"He's seen my matches throughout the years when I represented the country on the television, now it's my turn," said Mary, who retired from the game in 2011.
Married for 10 years, the couple shifted base to Mumbai eight years back in 2006 due to Mary's hockey career.
Mary is still in touch with the game and coaches the junior girl's national team and Central Railway. The 37-year-old will head to Bhopal during the end of the month for training camp of the girls team. Hockey seems to be running in the family as their seven-old-son Gavin is part of the hockey side for Don Bosco (Matunga).
Rao, who represented Karnataka, believes that his wife is a better player among the two.
"There was never ego issues between us or there being even a debate on who is the better player. That was never there. Her game made all the right noises and allowed me to grow as a player. This also gave me a chance to experience the game in Mumbai and there has been no looking back," said Rao.
Stopwatch: Central Secretariat 3 (S Ajmani, J Jadhav, A D'Souza) bt Rhema Sports 1 (Hansraj)