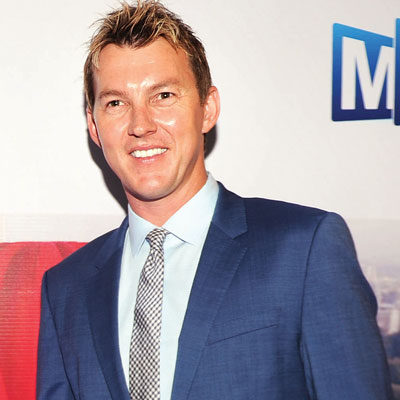 It's clear Brett Lee still misses bowling at the top level. Nay, bowling fast. It's also clear he can still touch the 135-140kmph mark. Nay, 150. Piers Morgan would agree.
And Binga, as he's fondly called, has some advice (or warning) for the powers that be in Indian cricket. Find some fast blowers, or forget about defending the World Cup next year in Australia-New Zealand.
He first spoke about his dream final: "Australia vs India, wouldn't that be fantastic!"
But then came the rider. "To get there, India really need to make sure that they dominate in the fast bowling department. They have great spinners, they've got batting that goes right down the order. But when you're playing on Australian wickets that are not going to be low and slow like in India, they need bowlers that can bowl over 140 kmph. I really hope for India's sake that they find those fast bowlers," Lee said at a promotional event here on Tuesday.
It's a no-brainer that India are increasingly looking barren in the fast bowling department. There's Mohammed Shami, who is our best bet at the moment. Bhuvneshwar Kumar is purely a swing bowler. Varun Aaron does touch 140kmph, but also bowls two beamers to go along. Ishant Sharma has been dropped from the one-day side. You never know whether Zaheer Khan will ever play ODI cricket again. Like Lee put it, "India need to find a spearhead".
"There are 1.3 billion people here that all love playing cricket. There's got to be one person who can come through and bowl over 155kmph. Everyone's trying to bowl fast, they just have to be nurtured and looked after," Lee added.
The retired Australian pacer reckons if India find anyone who bowls fast in the upcoming India Premier League (IPL), the selectors should fast-track him in the national squad.
"You'll always have guys who're doing a bit and bowling 130-135kmph. But you might find someone in the IPL who puts his hand up and says 'I'm ready to bowl fast'. I reckon that's what they'll look for going forward to the World Cup," he said.
Fast bowling talks aside, a day after Jacques Kallis rated Brian Lara a notch above Sachin Tendulkar, Lee chose to side his good mate in the ever-raging debate.
"I have to say Sachin, simply because he just has that aura. When he walked out to bat in my first Test at the MCG, and I'm looking at this person who was tiny, and he was ready to play. And I thought, wow, this is the guy who I want to play against. This is what dreams are made of. So I'm taking nothing away from Lara, but when you play against Sachin, you somehow find a way to go that little bit extra," he said.