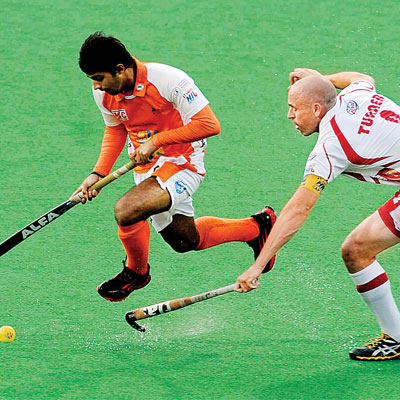 Their fate was sealed. There was no way they could make the last-four stage. All Mumbai Magicians and Kalinga Lancers were left with was pride. After seven defeats and a draw this season, Magicians rose to the occasion to register their first win of the tournament. Their 3-2 win over Lancers ended a run of 12 winless games stretching back to last season.
It was evident that Lancers would enjoy majority of the possession. Not that it bothered the Mumbai players who were happy to soak up the pressure and hit Kalinga on the counter. The fervent crowd did Mumbai's confidence a world of good and they took the lead at the fag end of the first quarter with skipper Glenn Turner quick to react to a rebound.
That strike worked wonders for Mumbai. Suddenly, they were making constant runs from the deep. It was a case of 'role-reversal: Lancers were chasing the ball now. But they kept their calm and goalkeeper David Harte provided an example of his blocking skills when he stopped one off Vikas Sharma.
Mumbai were desperate to score again and, after squandering two penalty corners, they finally converted the third to go 2-0 up. Mark Gleghorne it was who scored in the 33rd minute. It stayed like that at the halfway mark.
Mumbai's high-intensity pressing game seemed to take a toll on their players and the side lost possession on several occasions in the third quarter. Kalinga were quick to take advantage and Mohammad Nizamuddin pulled one back for his side in the 43rd minute.
But Mumbai regained their composure and restored their two-goal advantage through Ravi Pal who was at the right place at the right time to kneel and scoop the ball into the net in the 57th minute. But Mumbai's joy was short-lived with Lucas Villa scoring just a minute later. The last 12 minutes were nervy for Mumbai and their fans. But they hung in there to finish the season with a win.
Stopwatch: Mumbai Magicians 3 (G Turner 17, M Gleghorne 33, R Singh 57) beat Kalinga Lancers 2 (M Nizamuddin 43, L Villa 58)