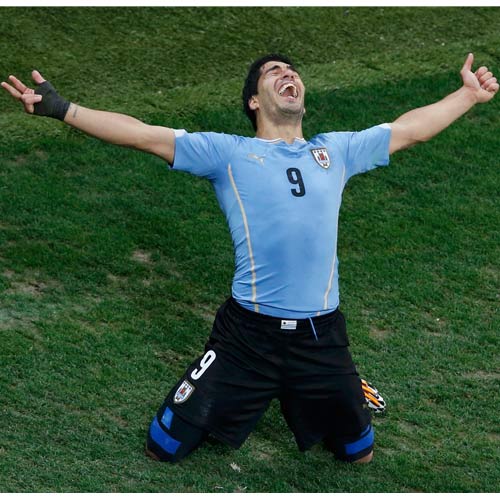 Luis Suarez shared a touching dressing room video on his Twitter account, where he is thanking his wife and two kids, after beating England.
— Luis Suarez (@luis16suarez) June 19, 2014
The 27-year-old striker, who was playing his first game after he recently went through a knee surgery, and scored the opening goal for his team, also credited his physiotherapist Walter Ferreira, adding that he wouldn't have been able to play if it wasn't for him.
Even though Wayne Rooney had equalised the score with his crucial first goal in the World Cup, it went in vain as the Uruguay footie ace struck again, leading his team to a 2-1 win.
Luis Suarez shows why he deserves 'world class' label
Luis Suarez made his case for inclusion in the debate over the world's best player with both goals in Uruguay's 2-1 victory over England as he came back from injury and instantly punished Roy Hodgson's team. Cristiano Ronaldo and Lionel Messi can cite better all-round skill and trickery but when it comes to the games most valuable quality of all - putting the ball in the back of the net - Suarez is certainly in their company. Strangely, before the game, Hodgson had challenged Suarez to prove that he deserved to be placed in that 'world class' category. "I think he will only be at that level when he shows it on this particular stage," said the England manager, who must now think he was asking for trouble with that assessment. It was also a particularly odd view given that Suarez had been instrumental in Uruguay's run to the semi-finals in South Africa four years ago, scoring three times in the tournament. Read more