In about a fortnight from now, millions across India will be glued to one of the sporting world's biggest carnivals, the 2014 FIFA World Cup, which will be held in the land of carnivals – Brazil. But where does India stand on the world map of football? Rutvick Mehta finds out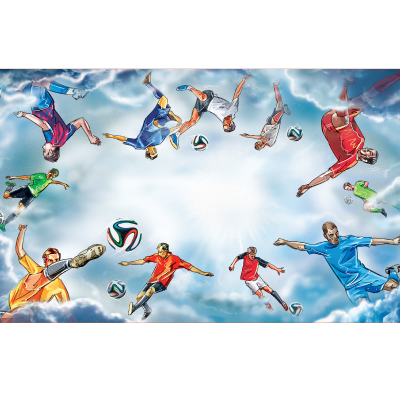 It will be one of those rare occasions when cricket will be on the back burner, and names of Ronaldo, Rooney and Ribery will be renting the air playing for their respective countries. Predictably, sports bars will be flooded with customers sporting jerseys of Spain, Brazil, Argentina — the Indian jersey will be put to wash — and house parties will have football for company. Indeed, India will become a part of the carnival.
In a country where — forgive the cliché — cricket is religion, football is vying for its share of sport-divinity, especially among the youth.
The growth of television has meant that every league across the world, from the English Premier League (EPL) to the UEFA Champions League to the Spanish league (La Liga), is televised live and marketed on par with cricket. In turn, these leagues rake in money through television rights for enabling Indians to watch their favourite stars play almost every week. Sounds perfect, doesn't it?
But it isn't. A couple of questions come up. First, how much do these leagues re-invest, or do something for the growth of the sport in India? For example, clubs like Manchester United, Manchester City, Liverpool, Inter Milan, Paris Saint-Germain and Bayern Munich have their own schools in India, where they frequently hold camps for kids. Some of these, like Manchester United and Bayern Munich, even train Indian talent at their respective clubs for a short period of time, ranging from a week to a fortnight. But it stops there.
Second, and more importantly, where does Indian football stand in the game that many believe will overtake cricket in the years to come in the country?
The first question was answered recently by the former deputy secretary general of FIFA, Jerome Champagne, who is running for the game's governing body's presidential elections in 2015. "EPL makes $50 million from India. How much do they re-invest in India? Zero," he said during his visit to India in March this year.
The second issue requires more than just number crunching. For too long, India has been considered as the 'sleeping giant' of world football. If that's true, it's been slumbering for too long.
The Indian national team is ranked 147th in the world. Just to give you a perspective on where India stands, here's a list of some countries ranked above us: Saudi Arabia (75), Uzbekistan (53), Qatar (95), China (96), Iraq (100), Kazakhstan (118), Tajikistan (121), Afghanistan (128), Thailand (143). FYR Macedonia, a country located in the central Balkan peninsula in southeast Europe that got its independence in 1991, is ranked 80. Sleeping giant who?
"I think you were not a sleeping giant always," Champagne said. "So you have to wonder why that happened. When Sepp Blatter (FIFA president) came here in April 2007, we launched a programme in India — 'Win in India With India' — and $8 million were allocated then. It's 2014 and there's still some money that has not been allocated. You should wonder why. Your country has very intelligent, educated people, strong business sector — you have all the recipes to succeed. But you have to roll up your sleeves."
Opportunity lies in adversity. During the Men's Olympic Football Tournament in London in 1948, the Indian team quite famously played barefoot and almost defeated France, earning praise from Princess Margaret. The task ahead for Indian football is no less gigantic than playing barefoot, and coming out triumphant will require equal, if not more, passion and resilience.
"I feel we all need to pull up our socks, why just the All India Football Federation (AIFF)?" Sunil Chhetri, India's football captain, said. "The players, government, corporate houses, AIFF, media, everyone needs to make India the hub of Asian football. The challenges would obviously lie in upgrading football infrastructure, developing players at grassroots and then funnelling them into top professionals. We should also make our leagues stronger so that we have good players coming into the national team. Our objective should be to do well in Asia first."
Looking ahead, two big opportunities present themselves to Indian football.
First, the Under-17 FIFA World Cup in 2017, which India has won the rights to host. Simply put, the country can ill-afford to do a 2010 Commonwealth Games with it. The future Ronaldos and Messis will be on display, along with the scouts. Unlike in 2010, every single individual that comes for the mega event should go back saying "India was great".
The second perceived catalyst is the newly-conceived Indian Super League (ISL), which promises to change the face of football in India. There lies the catchword: promises. The ISL is trying to do what the Indian Premier League did to cricket — take the game to a newer audience, thereby taking its popularity to another level. A host of celebrities, sportsmen and business honchos have bought a stake in the franchises of ISL, none less than Sachin Tendulkar, Sourav Ganguly, Salman Khan, Ranbir Kapoor, John Abraham and Atletico Madrid, a highly successful Spanish club.
Like most things radical, there are two sides to this. Many believe the influx of foreign stars, management, coaches, officials, and technical expertise will give Indian football some valuable inputs. But then there are people riding on the riders. Some I-League clubs are vehemently opposing the ISL, threatening to split Indian football in its very heart. Their reasoning is that there's no guarantee these franchises will actually invest in building infrastructure and players at the grassroots, and will focus only on marketing the game to pump in money. They also feel the league will have little or no impact in spurring the national team's performance.
The AIFF is banking on three 'P's to take Indian football forward: Promotion, packaging and presentation. "We see a bright light at the end of the tunnel," Subrata Dutta, senior vice-president of the AIFF, said.
"Indian football is in a transition stage and is progressing fast. The Under-17 WC and ISL will boost Indian football and accelerate commercialisation. But we need to make sure that the infrastructure is ready well within time."
Rahul Jha, a 23-year-old sports management student from Mumbai, tells us why Indian football doesn't have him hooked. "One follows international leagues because they are marketed well. Their ads invoke passion and triumph. Most of us would love for an Indian football league to be on par or even better than the cricket league."
However, former India player and president of the Football Players Association of India, Renedy Singh, has two simple mantras to get Indian football back on track: good quality coaches and focus on grassroots.
"There are a lot of plans being floated around, like the 'Lakshya 2022', but as long as you don't implement them, Indian football won't go anywhere. Everyone talks about the time frame that India will take to qualify for the World Cup. I don't see it happening for another 40-50 years," Singh said.
The Indian captain sees more positives for Indian football than negatives going forward. "The early feelers on ISL seem to look good. Similarly, India winning the rights to hold the U-17 World Cup will be huge. Overall, in the long term a lot of work needs to be done but the early signs are good. Football is a global game and I don't see a reason why India cannot play a major part in it," Chhetri said.
Well, the entire country seems to be smitten by optimism of the 'acche din aane wale hain' chant. Will that slogan hold true for Indian football as well? Only time will tell.
Till then, it's time to sit back and enjoy Brazinga 2014!