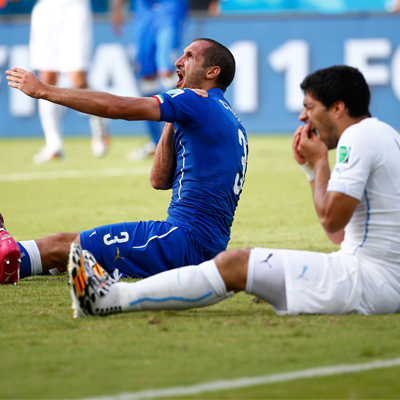 Hunger games witnessed at Estadio das Dunas!
Uruguayan and Liverpool star striker Luis Suarez is in the eye of the storm yet again and has gathered criticism from the international footballing fraternity after he bit Italy defender Giorgio Chiellini on the left shoulder in the ongoing FIFA World Cup Group D match at Estadio das Dunas. The FIFA disciplinary committee investigating Suárez for the alleged incident will be considering evidence based on his two past biting incidents, and determine the degree of punishment. The disciplinary hearings were initiated against Suárez late Tuesday, hours after he bit Chiellini in the 79th minute. The committee is expected to issue a decision before Saturday, when Uruguay will play Colombia in a Round of 16 match. Suárez and Uruguayan football federation have time until 5 pm. Wednesday to present their case, including the evidence. The FIFA committee is collaborating match reports, witness statements and video of the incident.
As per media reports, FIFA Spokeswoman Delia Fischer said, "The disciplinary committee fully understands the urgency of the matter. It is working to get and assess all evidence as early as possible, particularly given the fact that Uruguay is still in the tournament." The committee will closely look at the video evidence to establish claims against Suarez and that had been missed by the referee and the linesman. Suraez, however if found guilty faces a likely ban of upto two years, the highest under FIFA's disciplinary code, which will keep him out of competitive football and likely to miss the rest of the campaign including the match against Colombia. However it has not yet been ascertained if he will also be disallowed to play for his club Liverpool, in the English Premier League. Suárez is charged with breaches of two articles of FIFA's disciplinary code, Articles 47 and 58, relating to violent conduct and "serious foul play," and unsportsmanlike conduct respectively.
Also Read: England, Italy campaigning against Luis Suarez, lawyer says
The 27-year-old left teeth-marks on Chiellini's shoulder after getting entangled with him in the penalty box at the end of Uruguay's 1-0 win in Natal. In the past he was suspended for seven games by a Dutch league in 2010 and for 10 games by the Premier League in 2013 for biting players of opposing teams.
As per media reports Uruguay coach, Oscar Tabárez said "If he had bitten Chiellini the referee had to have seen it" and that, in any case, the World Cup was no place for "cheap morality." "If we believe people are attacking him, as has happened in this news conference, then we're going to defend him," Tabárez said.
Italian coach Cesare Prandelli confirmed that he saw the bite-marks on his shoulder but went unnoticed as the referee's assistants were busy.
ALSO READ:
Luis Suarez loves eating Italians? Football fans take a dig on Twitter
How companies cashed in on Luis Suarez's incredible bite saga