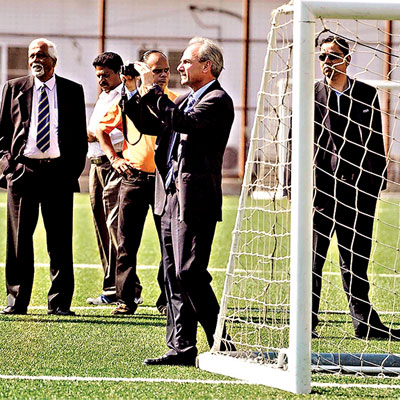 A two-member FIFA delegation inspected the refurbished Cooperage ground on Sunday. The Colaba venue is one of the eight shortlisted by the All India Football Federation for the Under-17 FIFA World Cup in 2017.
Inaki Alvarez, FIFA's director of competition and Vijay Parthasarthy, competition manager, were given a tour of the ground by Henry Menezes, chief executive, Western India Football Association and Souter Vaz, WIFA general secretary. Alvarez and Parthasarathy have already visited stadiums in Goa, Pune and Nerul.
The delegation was accompanied by Anil Kamat, assistant general secretary (competition), AIFF, and Shaji Prabhakaran, FIFA development officer (Asia).
Alvarez seemed satisfied with the Cooperage ground. "I've heard this is one of the best artificial turfs and it seems really good. But at the moment, we are in an evaluation process. We will be going back and forth and submitting our reports. So I can't say anything right now." Asked if he was satisfied with the venues he visited, Alvarez said, "Each venue is different and the ones with the best balance will be approved for the World Cup."
A venue must fulfill FIFA criteria to earn hosting rights. For instance, the field must be of approximately 105 metres in length and 68 metres wide. The stadium must also have proper training pitches and dressing rooms.
But because the Under-17 World Cup is awarded to countries to improve their footballing infrastructure, FIFA is lenient on the kind of turf that can be used. "Regulations allow that matches in the Under-17 World Cup can be played both on artificial turf as well as natural grass," said Alvarez, who clicked pictures of the field of play, goalpost and stands.
The delegation also visited the University Sports Pavilion and Bombay Gymkhana. Both facilities could be used as training venues.
Menezes informed that WIFA has received full support from the state government to host the first-ever FIFA event in the country. "The state government has granted us all the necessary sanctions and clearances, including security arrangements for hosting the World Cup," he said.
The delegation will now travel to Bangalore before heading for Guwahati, Kolkata and New Delhi.