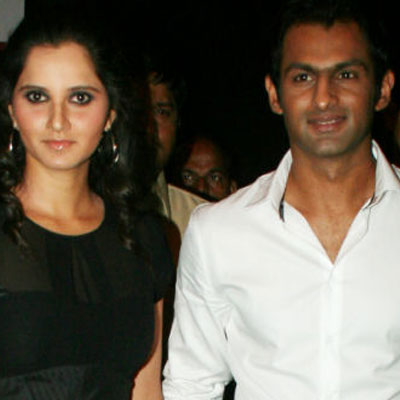 The Yash Chopra film Veer-Zaara was a love story between an Indian Air Force pilot [Shahrukh Khan] and a Pakistani girl [Preity Zinta]. It was a film that tugged the hearts of the people on either side of the border. There have also been real-life Veer-Zaaras episodes involving celebrated names from India and Pakistan. Sudatta Mukherjee narrates some of the romances.
Amid the frosty relationship between India and Pakistan, there have also been some who tore through the barriers and walked the path of love. And some of the most celebrated relationships involved cricketers and filmstars.
Following are some of the more famous link-ups:
Imran Khan and Zeenat Aman:
With his Hollywood film star looks, Oxford education and magnetic charisma, Imran Khan dated some of the most beautiful women in the world before he married British Billionaire heiress Jemima Goldsmith. It came as no surprise when the Imran-Zeenat Aman came to light, given the Pakistani strong Bollywood links. Zeenat, daughter of a Muslim father and an Anglo-Indian mother and a former Miss Asia-Pacific, looked a perfect match for Imran in more ways than one. Zeenat was an intelligent and modern woman, more Western than Indian. It was a match between two supreme sex symbols of the sub continent.
The relationship however did not culminate into marriage. Zeenat went on to marry actor Mazhar Khan, younger to her by two years, while Imran married Jemima, younger to him by more than two decades – marriage that ended in divorce in less than a decade.
Mohsin Khan and Reena Roy:
Mohsin Khan, who played in 48 Tests and 75 One-Day Internationals from 1977 to 1986, fell in love with actress Reena Roy and married her. In fact, the strikingly-goodlooking Mohsin went on to become an actor himself, acting in no less than 13 films.
The Mohsin-Reena marriage, however, ended in a divorce and Mohsin retraced his steps back to Pakistan. Mohsin has a daughter from his wedding with Reena Roy.
Mohsin has since donned the hats of Pakistan 's chief selector and coach.
Zaheer Abbas and Rita Luthra:
Zaheer Abbas met Rita in 1980s. Zaheer used to play for English county Gloucestershire and Luthra was studying interior designing in United Kingdom. Zaheer who was married, tied the knot with Rita in 1988. Rita has since changed her religion and is now known as Samina Abbas.
The couple hardly faced any opposition as Abbas's father was friends with Rita's father, late KC Luthra, according to Pakistani newspaper, The Nation. Prior to Partition, the Luthras used to stay in Faisalabad, Pakistan.
Zaheer an Samina now live in Karachi, where the latter runs her interior designing business.
Sonali Bendre and Shoaib Akhtar:
The Rawalpindi Express once openly confessed his love for Indian actress Sonali Bendre. Shoaib had said that if Sonali refused his proposal, then he would kidnap her. However, in an interview later, he said that he likes Sonali but have never met her or would never think of kidnapping her. But rumours about the Shoaib and Sonali kept flying around.
Shoaib Malik and Sania Mirza:
In 2010, Indian tennis star Sania Mirza broke off her engagement to childhood friend Sohrab Mirza to marry Pakistani cricketer Shoaib Malik.
There was much drama before the wedding between two renowned sportspersons when reports emerged that Malik was already married to another Hyderbad girl, Ayesha Siddiqui. Malik denied the accusations, though the girl's family released marriage certificate to prove that Ayesha was married to the Pakistani cricketer. Malik later confirmed his marriage with Ayesha and got a divorce. Malik and Sania are happily married now for four years and continue to be the darling of the Indian media.
Wasim Akram and Sushmita Sen:
Wasim Akram was spending more time in India than Pakistan, thanks to his TV commentary stints, association with Kolkata Knight Riders and involvement with the fashion industry. Akram was married to the goregous Huma in 1995 — a marriage which lasted 15 years. Huma – a hypnotherapist by profession – died of multiple organ failure at Chennai's Apollo Hospital in October 2009. Huma suffered a heart attack when the air ambulance on which she was being flown to Singapore landed at Chennai airport for a scheduled refuelling.
The handsome Akram's name was linked with the statuesque actress, the former Miss Universe Sushmita Sen. This was after Akram met Sushmita met in a reality show in 2008. Apparently, the couple broke off six-months, though Sushmita rubbished reports that she was dating Akram.
Akram, 47, recently married Shaniera Thompson, younger to him by 17 years.
Tammana Bhatia and Abdul Razzaq:
Tammana Bhatia shot into limelight for her then link-up with Virat Kohli — the two had done an ad for a mobile company. But more recently , Tammanna — who has acted in many South Indian film — was in the news for her alleged romantic dalliance with Pakistani all-rounder Abdul Razzaq, when both of them were seen together at a jewelry store in Dubai.
The photos of the two together created a flutter as Razzaq is a married man.
Nonita Lall and Faisal Qureshi:
Indian ace golfer Nonita Lall met Pakistani golfer Faisal Qureshi during a golf tournament in Islamabad. A month later, Qureshi proposed to Nonita and the two married in early 1992.
(Sudatta Mukherjee is a reporter with CricketCountry. Other than writing on cricket, she spends penning random thoughts on her blog and produces weekly posts on new food joints at Whopping Weekends. She played Table Tennis for University of Calcutta. When she is not writing, you will catch her at a movie theatre or watching some English serial on her laptop. Her Twitter id is @blackrosegal)