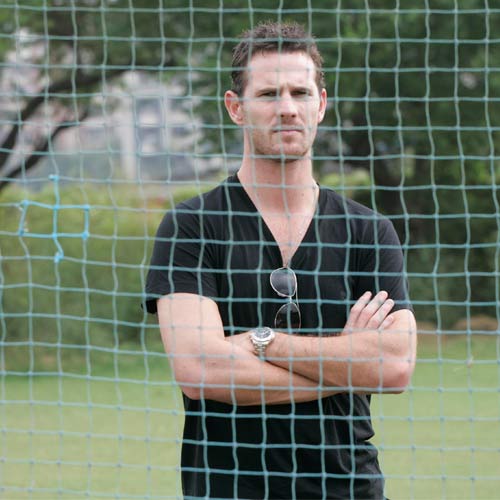 Australia's population is only 22 million and football is not our No. 1 sport. It is down the ladder. Considering that, they have done a good job of making the World Cup finals. It is going to be tough for them.
Australia are playing in a tough group. They are in the same group as Chile, The Netherlands and Spain. They have a tough task ahead of them. I don't know how they are going to do. But they have done well to qualify for the finals.
With Australia making it to the World Cup, it will be great to watch them play any game. My favourite World Cup moment is when Australia played Italy two World Cups ago (2006) and had a chance to make the quarterfinals but lost in the last minute because of a penalty. I played football for a period when I was a kid. I played Australian Rules Football. Football is not a big sport in Australia but it is getting bigger now.
I have always liked the English team. My father is English. They have underachieved a bit. I was a big David Beckham fan when I was a kid. I like watching Ronaldo like everybody does and also the now-retired Francesco Totti from Italy. I have to say Ronaldo is now my favourite player.
I have never got a chance to watch a World Cup match at the stadium. When you travel around the world, it is difficult with the time difference and stuff. Two World Cups ago, I watched the Australia-Italy game. I am not that fanatical about football. If it is at the right time, I will catch a game.
I once went to the Manchester United training facility when I was travelling with Australia for the Ashes. I met Sir Alex Ferguson, Ryan Giggs and Gary Neville. That's the closest that I got to there. The facilities are unbelievable. They have obviously got a lot of money and the players are all looked after. Meeting Sir Alex was the hallmark. He is obviously a great coach. They way he carries himself, his temperament, he is extremely confident. He handles himself very well. They did not know too much about cricket except for a few guys like Glenn McGrath, they knew who he was. Alex is Scottish, so did not know too much about cricket.
(Shaun Tait is a former Australian fast bowler. He spoke with G Krishnan)