Australian fast bowler has tormented the English team in three out of three innings that they set out to bat in.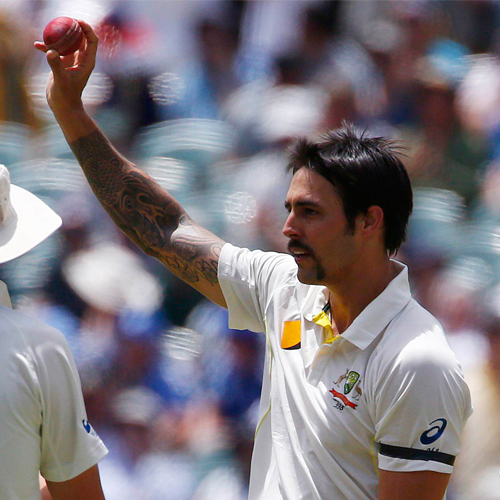 If Brisbane was a fluke, at Adelaide Australia looked to answer the critics with their performance as they used the bat and ball to do the talking.
After winning the first Ashes Test, Australia in the second set a mammoth lead for England who were flustered yet again by the pace of Mitchell Johnson.
The 32-year-old Australian bowler took seven wickets as he added more insult to injury with his pace and attitude. England were all out for 172 thanks to the purple path from Johnson who took three wickets in his second over after lunch.
With his man-of-the-match performance thanks to his nine wickets in the match in Brisbane, Johnson seemed to be continuing from where he left off in the previous match as his 7-40 was the best Ashes performance in over 100 years at Adelaide Oval.
Australia chose not to impose the follow on though they had a lead close to 400 as they batted again piling the runs and misery on the visitors who are already 1-0 down in the five Test series that they won at home a few months ago.
With David Warner who was playing in good nick and Steve Smith at the crease after they lost three wickets in their second innings Australia with two days left in the Test look well set for another win.
Mitchell Johnson seems to be a problem that is returning to haunt England and their batsmen every time they land in the middle of the 22 yard pitch. Currently with the ball the bowler from Queensland seems to be unable to do much wrong as he has managed to make a bunny of almost all of England's top batsmen.
If England wish to save this Test and make a comeback in the series they will need to figure out the enigma named Mitchell Johnson quickly as he is the main man who stands in the way of them and another Ashes triumph.