India are notorious when it comes to (not) going for the kill. But on Saturday, they looked refreshingly positive.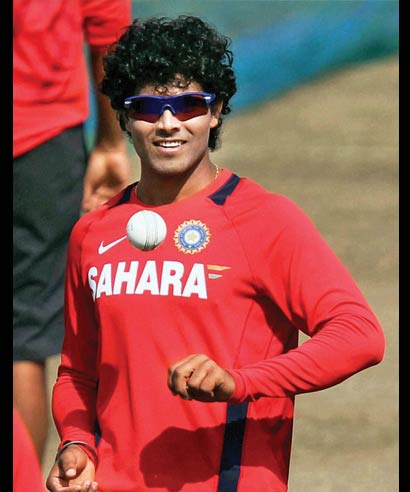 MS Dhoni's decision to introduce Ravindra Jadeja in the 14th over of the third ODI on Saturday had nothing to do with the faith he has in the Saurashtra all-rounder. Ishant Sharma had gone for 10 in his first over and Kevin Pietersen had begun to display his bossy self. Jadeja, therefore, was asked to roll his arm, so that Ishant could run in from the other end. The ploy worked and the lanky pacer got KP's number — albeit in controversial fashion — in his very next over.
England never quite recovered from that position. Well, 68/2 became 68/3 when Ian Bell departed three deliveries later. R Ashwin, another Indian player going through a rough patch, received a belated Pongal gift when Eoin Morgan played an atrocious reverse-sweep, spooning the ball to Yuvraj Singh at backward point. At 98/4, England were down. Against, say, South Africa or Australia, they'd have been dead and buried. But given that they were up against India, the visitors must have harboured hopes of staging a fightback.
India are notorious when it comes to (not) going for the kill. But on Saturday, they looked refreshingly positive. The intensity was there. As was the intent to go 2-1 up in the series. Dhoni brought back Jadeja and it was spin from both ends.
On the second ball of the 25th over, Jadeja came up with a beauty. His well-flighted delivery drew Craig Kieswetter forward, found the gap between bat and pad, and that was that. Turns out it was an arm ball. Did the batsman play for turn? Or was it clever thinking on the bowler's part? You never know. Four balls later, Jadeja bowled another arm ball, and Samit Patel repeated the mistake committed by his just-departed partner. The only saving grace was that he was out leg-before and not clean bowled. Jadeja's figures read 2-0-5-2.
For some strange reason, Dhoni took Jadeja off the attack a little later. He brought the left-arm spinner back for an over before stationing him in the deep. And when Ashwin and the pacers failed to wrap it up, Dhoni bowled Suresh Raina and Jadeja in tandem. Both struck in successive overs as England were bundled out for 155. Jadeja's third victim of the day also fell to the arm ball. If Kieswetter and Patel couldn't tackle him, how could Jade Dernbach? Jadeja finished with amazing numbers: 6.2-0-19-3.
And Dhoni was mighty impressed. "He has always been a talented cricketer. Personally, I have rated him very highly," he said of Jadeja. Dhoni reckons that in the absence of Irfan Pathan (injured), Jadeja is the best all-rounder India have. "Jadeja is definitely someone who is giving us that balance, because we have been struggling with a seamer all-rounder. Jadeja is the perfect person to have. And he can bat a bit."
Jadeja has three triple tons in first-class cricket. He can also play a blinder (remember Kochi?), but Dhoni said he didn't want to "expose" Jadeja too much at this stage. "The top order needs to perform and Jadeja will only bat at No 7. But we have seen glimpses of his batting talent. The more games he plays the better he will get."
Weather in way of Broad's comeback
Pacer Stuart Broad will not join the England ODI squad in India after bad weather prevented him from leaving London though it was not sure whether he would be fit for the last two matches of the ongoing five-match series. Broad, who has been rested for the first three ODIs due to a heel injury, was scheduled to return to India before the final two matches but had to shelve plans to join the squad due to extensive cancellations and delays at Heathrow airport.
With the weather conditions not likely to improve quickly, Broad would have struggled to reach India in sufficient time before the fourth ODI to be played at Mohali on January 23. "Gutted I can't get to India. I'm off home with all my luggage at Heathrow. I'll be waiting for the lads in New Zealand!!" Broad tweeted.