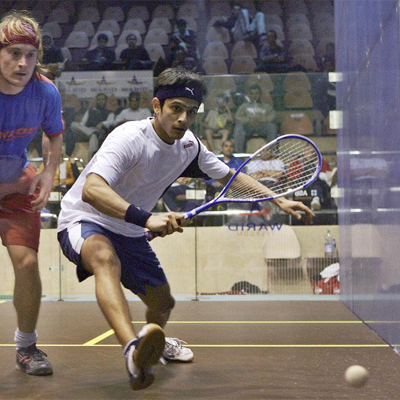 India's top player and number one seed Saurav Ghosal crashed to a shock first round defeat against qualifier Ali Farag of Egypt in a five-game contest in the 2nd CCI PSA International Squash Championship on Thursday in Mumbai.
Eight-time national champion Ghosal, the world number 16 who entered the $25,000 event for gaining valuable practice for the upcoming Commonwealth Games in Glasgow later this month, had his plans upset when his Egyptian rival pulled off a 10-12 11-7 7-11 11-8 11-4 win in 77 minutes. The victory was also the Egyptian's first over the 27-year-old Kolkata-born Indian, a quarter finalist at the last world championship as the 190th ranked Farag rallied brilliantly from a 1-2 deficit to script a stunning upset.
However, India's number two player Harinderpal Singh Sandhu kept the country's hopes alive when he rallied from 0-2 deficit to shock fourth seed and world number 47 Mohd. Ali Anwar Reda of Egypt 8-11 8-11 12-10 11-9 11-9 win in an 87-minute thriller.
Farag launched a late recovery in brilliant fashion with some memorable shots as he forced the decider in which Ghosal committed a slew of errors, hitting the tin once too often. Those mistakes by Ghosal enabled Farag take a 10-3 lead at match-ball before he completed a memorable upset to disappoint the packed gallery at the Cricket Club of India's glass-backed court.
"Saurav's got a reputation and I knew what to expect. Yes, I was worried when I was down 1-2. But I played with no pressure at all, and that made the difference," said a delighted Farag.
In another first round match, Kush Kumar of India went down to fifth seed Jamie Haycocks of England 12-14 13-11, 3-11 11-4 13-11 after a 73-minute struggle. Kumar, who recently won the under-19 silver medal at the 21st Asian Junior individual championship in Kish Island, Iran, frittered away a 2-1 advantage before losing a closely fought decider.
Results (1st round): 6-Zahed Mohd (Egy) bt Ammar Altamimi (Kuw) 11-5 8-11 11-4 12-10; 8-Kristian Frost Olesen (Den) bt Jens Schoor (Ger) 11-4 11-5 11-5; 5-Jamie Haycocks (Eng) bt Kush Kumar (Ind) 12-14 13-11 3-11 11-4 13-11; Nasir Iqbal (Pak) bt Shehab Essam Hosny (Egy) 11-1 9-11 12-10 11-9; Ali Farag (Egy) bt Saurav Ghosal (Ind) 10-12 11-7 7-11 11-8 11-4; Harinderpal Singh Sandhu (Ind) bt 4-Mohd. Ali Anwar Reda (Egy) 8-11 8-11 12-10 11-9 11-9.